Discussion Starter
•
#1
•
So you've decided to replace your front OEM grill. Good for you :goodjob:
Here's a few things you should know first before you go ahead and buy something.
The Mazda 3 model comes in two basic trim levels. One has a black honeycomb grill (generaly the
2.0L mazda 3's
) and the other one has a body colored grill (
the 2.3L mazda 3's
)
Although the front OEM grills may look similar , they are a bit different , but it shouldn't make a too much or a difference if you tried to swap them.
The 2.0L members have a grill that looks like this..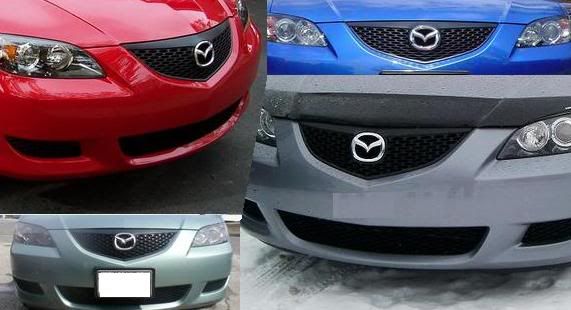 you may want to consider a grill like the one Erebuni has...
http://www.erebunicorp.com/accesscustom/maz3.htm
or from Autotoyaz
http://store.yahoo.com/autotoyaz/20onma34drcu.html
or from CVR motorsports
http://www.cvrmotorsports.com/model.php?mod_id=88
or try ebay..
http://www.motors.ebay.com/
-----------------------------------------------------------------------------------------------
The 2.3L members have a grill that looks like this... (body colored)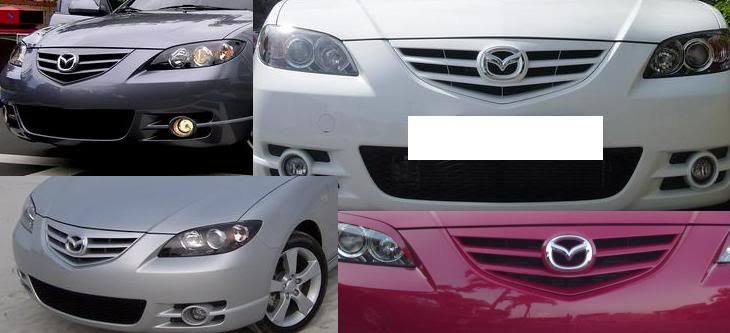 You guys may want to buy the new grill available now on ebay.. (check for links below on more info)
check out these threads in our forum.. group buys, pics and info on the new grill for the GT or S model
http://www.mazda3forums.com/index.php?topic=29860.0
http://www.mazda3forums.com/index.php?topic=26313.0
http://www.mazda3forums.com/index.php?topic=28319.0
Don't believe the above info??
Well .. here's what an i model grill looks like on an S model bumper  :?
(GS+GX grill on a GT/GFX bumper in Canada)
----------------------------------------------------------------------------------------------------------------------------------------------------
With all that out of the way, now  I'll show you guys my install and share a few tips if you're planning on getting the Erebuni grill (i or GS/GX models ONLY).  In my opinion the grill fits pretty good on my GS (or i ) model.
Pic of when it came to my door… (total price with shipping/customs ~$250 CAD)
So, to begin the instal, here's a few steps I took (and some pics)
In order to loosen the stock grill, I had to unscrew these two screws first
Then.. I uncliped these clips ..(Note: this is the back view of the stock grill)
Go easy with these clips, don't force it, or you'll get what I got.. broken clips..
I was kinda rushing it, and so two of the clips broke off, so be careful, and take your time!
Took the grill out, and put in the new one to identify where I had to drill the new holes..
Now that I knew where the holes had to be drilled, it was time to do some drillin'...
Since I didn't have a drill, I went into my lab and turned on the bunsen burner and melted my hole with a piece of RED HOT metal...  :eekno:
I don't recommend you do it this way, however, if you are going to melt your hole, please do it near a fume hood (or outside) like I did, cause that stuff really stinks!!! lol
When I had my hole, I just put the grill on. The Erebuni grill comes with no clips or hinges, its just a plain piece of fiberglass, so it goes on easily. Fastened the screws and shut the hood.
Anyway, that's my little walk through of how I did the instal. The grill is kinda loose since there are no other clips holding it except the two stock screws, so I'm gonna have to come up with a way to fasten it down a little more.
Here's some pictures of the finished install… (fits good)
A few pics of the grill and the eyelids together!
Three weeks, and 4 coats of paint later .. my grill is finally painted ( with eyelids cost is $115CAD)!!!  :yay:  
The reason it took three weeks to paint it was because it was apparently a 'bad' grill. The guy that painted it said it was the worst thing he has ever had to paint. The reason he said that, was because he got a lot of bubbles coming up from the fiberglass when he applied the paint. He said the bubbles were a result of the grill being very poorly done. A lot of work had to be done to repair the bubbles, they had to cut holes in the grill and fill it with bondo, and had to use special primers to avoid any other problems. So, my grill in the end got 4 coats of paint because they had to do everything over again 4 times. To make matters worse, my car is the 'special' pearl red color offered by Mazda, which means it's a three stage painting process. When I came to pick it up, he said to me "buddy.. I hope you didn't pay more than $20 for this grill.. This is absolute junk"  :?
Anyway, it came out looking good, and seems to be smooth all around.
Here's a few pics of the painted grill..
The mesh part didn't get painted, so I bought some BBQ black paint (which I'm told will stick to aluminum) and I did the job my self..
First coat, I'll put on a few more coats in the next couple of days
Also, I'll show you guys a few pics of the Accolade eyelids I got, they're painted too!
Ok, here's some pics of the finished install, Enjoy!!
This was before I put the eyelids on…
I think the paint match is pretty good… I'm happy with it..
Some pics of the eyelids as well..
Latest pic (October 2005)