Discussion Starter
•
#1
•
RubyRed3:
Its a 2004 Sedan S, in Velocity Red Mica (the best color) with every
option (including nav) except a sunroof (I'm 6'5", I need all the
headroom I can get, especially with a helmet). Mods include:
Racing Sparco NT-R's in Bronze 17x7 (15.3 lbs a piece) with 215/45-17
BFG G-force sports
Progress Rear Sway Bar (with "declunking" shims)
Mazdaspeed intake
Speedline international front grille
Vinyl removed from doors
Voodoo shift knob, pistol grip style
Aux-in audio hack
Nothing too over the top, but I've yet to find a single person who
dislike a single one of my mods, I get asked all the time "is that a
mazdaspeed 3"? Which I take as a compliment. It means they like how it
looks but think its clean enough that it must have been factory tuned
that way. My mom can still drive it and not complain about a stiff
ride or too much noise. I've done the over the top tuning thing on my
integra (my last car), on this car I wanted something that was
definitely improved in many areas, but still approachable to even the
non "tuner". I call it "universal appeal". Its also quite competitive
in STS despite being pretty underprepped for that class; a testament
to how well the stock suspension is set up if you ask me.
Eurotuner:
my mods
exel radius 17x7 +45
toyo T1R 21/45/17
shark fin painted TIgrey
20% tint all around
sportlines eibach
DDE raptors
silverstart blue turn signal
Pracing eyelids
blue fog overlay (dark blue)
smoked reflectors ( the rear ones)
removed door moldings
remove badging
added sport badge
advance timing
grounded TB
coolant bypass
F2 intake (when 909 will send it to me)
OMP strut bar ( when the guy will come to FL)
TWM (ordered it last night will get it next week)
well that is it.
thanks
smokinAMD:
2005 3s 5 speed with sports package.
Mods are as follows:
5% tint.
Draxas header.
Draxas exhaust.
AEM Intake
TWM Shifter
Sok07 deadpedal
Mazdaspeed pedals
Mazda satin fuel door
Mazdaspeed springs
Mazdaspeed struts
Racingbeat swaybars
XTEC 50watt 6000k HIDs
XTEC hidmatch fogs
Independent fog mod
Sylvania Silverstar highbeams
Sylvania Silverstar turnsignals
Speedline International grille
Accolade Eyelids
Faux leather seatcovers
Eclipse cd8445 headunit with full steering wheel control integration.
17x7 Exel Ennio gunmetal wheels with 215/45 Toyo Proxes FZ4's.
AWR 70 durometer lower motor mount
Sharkfin antennae
I purchased the car on December 11th of 2004, was pretty much a spur of the moment decision that I have yet to regret. This was my first new car, and I absolutely love it, despite the facts I've had some problems with it. Most noteably was when my engine died at the Texas Statewide meet and mazda refused to cover it under warantee because of my header. Which had nothing to do with the engine problem I had, but whatever. I ended up having to rent a U-haul and tow my car 900 miles back home and put a new engine in myself. $1,500 shipped for an engine with 11k miles on sure beats however much Mazda wanted to stick me for. I'm proud to say, that everything on my car has been installed by me, the only thing I've paid to have done is the window tint. I even painted my grille and eyelids myself. I dont have any sponsorships, just a hard working guy in college who loves cars. Recently taken up autocross, which is definantly a blast in this car.
PierreB:
My screename is: PierreB
I'm from Val-David, Quebec, Canada.
Here's my car:
Mazda 3 GT-GFX 2006 Velocity Red
Current mods on the car:
MazdaSpeed Sport Exhaust
MazdaSpeed Cold Air Intake
MazdaSpeed Stabilizer kit (Front/Rear swat vars)
Prolumen 6000K HID
Xtec 4000K HIDMATCH fogs
GV Replica Grille
Red Painted Calipers with MAzda Decals
Stubby Antenna
Hankook k104 tires.
I did not resize the pictures, if you require them to be smaller, let me
know I'll shrug them down.
I hope you enjoy the little photoShoot and hope that my car may become the
Car of the month!
Thanks.
knux11:
Location: Zion, IL
black mica 2005 mazda 3s sedan.
My Mazda 3 mods:
moonroof deflector
Optima Red Top
Aftermarket Front Lip
Injen Polished Cold Air Intake
Red Brake Calipers
16" Rota Slipstreams
215/50r16 Nitto Neo-Gens
2.5" Stubby
Eibach Pro-kit 1.4" rear/1.2" front drop
Draxas Cat-back exhaust
Pracing Front Strut Bar
Pracing Rear Lower Tie Bar
Progress Rear Sway bar
Xenon Expert pedals & matching deadpedal
Redline Quicklifts
Apexi hyper grounding system
A/V:
Alpine IVA-W200, custom dash install
Alpine Pxa-H701
Alpine Bluetooth Adapter KCA-100BT
2 8" Innovatek Headrest Monitors
JL 12w6v2 in stealth box
JL 500/1
JL 300/4, both custom Installed
Polk ex357 5x7 coaxials
JL xr650-csi components
1 Farad digital cap
4 turboez and a 1000 shot of NAWZ (j/k)
ag_bullet
My name is Jeb and I live near Raleigh, NC. I bought my car new in August
of 2004. It is a 2004 Mazda3 5-door in Titanium Gray. The only options I
did not elect at the time of purchase were NAV and the automatic
transmission. As it sits now, it has 44k miles on it.
After having the car for about a year, I decided to begin autocrossing it.
With the mods the car competes in the STS class in the Tarheel Sports Car
Club (THSCC). Last season was my first full season competing. I ended up
4th in class behind some awesome club veterans and won the 2006 THSCC Rookie
of the Year award.
Below is a list of mods:
Exterior Mods:
Mazda Tribute Black Chrome Emblems
PRacing Front Lip
Mazda Rear Diffuser Plate
JDM Grille
JDM (Corksport) LED Tails
Axela Badge
Sharkfin Antenna
Eyelids from silviaparts.com
Hella Supertone Horns
Hella Black Magic Driving lights (behind lower grille)
Silver Star front signal lights
Nokya Ion Yellow Fogs
European Autosport HID match highbeams
Blacked out rear and side reflectors
Engine/Performance Mods:
AEM CAI
AWR Rear Motor Mount
Draxas Header
Draxas High Flow Catalytic Converter
Draxas Cat Back Exhaust
TWM Short Shift with 590g Bombshell Knob (stainless)
TB Ground Mod
TB Coolant Bypass Mod
Spin-On Oil Filter Housing Switch
Hawk HPS Brake Pads Front and Rear
Braided Stainless Steel Brake Lines
Interior Mods:
Mazda chrome/Brushed Aluminum side sills
20% tint
Sparco Grip Pedals
Escort Solo II Cordless Radar detector
OEM all-weather rubber mats
2.3 badge on ash tray door (woo-hoo)
Wheels/Suspension:
Street: Rota Subzeros Gloss Black with polished lip 17x7.5 +48mm direct
drill (hubcentric)
Autocross: MB Motoring Boost gunmetal 17x7 +45mm
Summer Tires 225/45ZR17 BF Goodrich g-Force Sports
Winter Tires 225/45ZR17 Pirelli P-Zero Nero M+S
Autocross tires 225/45ZR 17 Hankook Z212 RS-2
Tein H-Tech Springs
Koni Yellow 4 way adjustable Shocks
Racing Beat Rear Sway Bar
Whiteline Front Sway Bar
GT Spec Front Strut Tower Brace
GT Spec Rear Lower Tie Bar
Ice:
JL 10w2 subwoofer
JL e1400 amplifier
PIE Adapter
Dell 20gb mp3 player
Not Yet Installed/On Order:
Racing Beat Reinforced Front Endlinks
SPC Rear Camber links
So that is about it. I will attach a couple of pictures to this message and
the others (due to size) in a couple of subsequent messages. A few of my
more recent mods are not reflected in these pics and they are numbered with
lower ones being older than the higher ones).
Austin102085
Well lets see my name is austin im 21 ive been looking at mazda3 forums
since I got my mazda3 in 05. but I don't post much. I have only gone to
2 car shows with my car a local one in savanna and nopi natonals in
atlanta 06. I got first in both events.
Mods:
Body kit
Shaved doors
Dde's
Short shift
Custom mazda3 radio(diy on mazda3fourm)
3 gauge pod
In dash tv
2400 wats
X2 12" ma audio hk subs(custom box made by me)
Strut bar
Repainted car
18 inch rims with low pro tires
Many others but small
Next mod is going to be a turbo kit.
I have put some pics in here let me know what you think. Thanks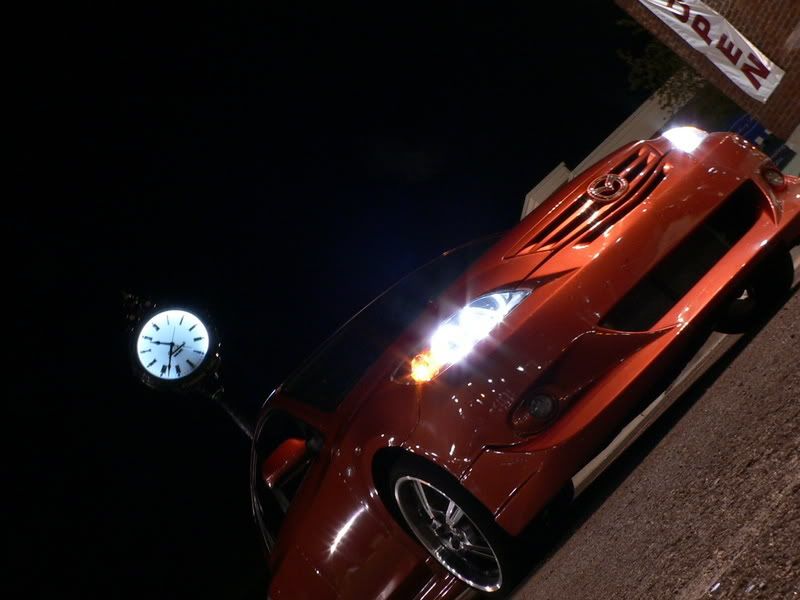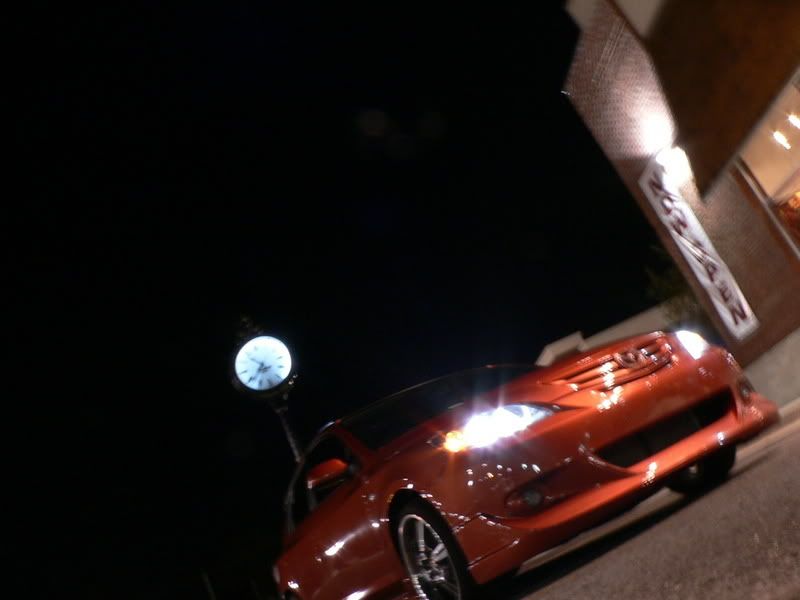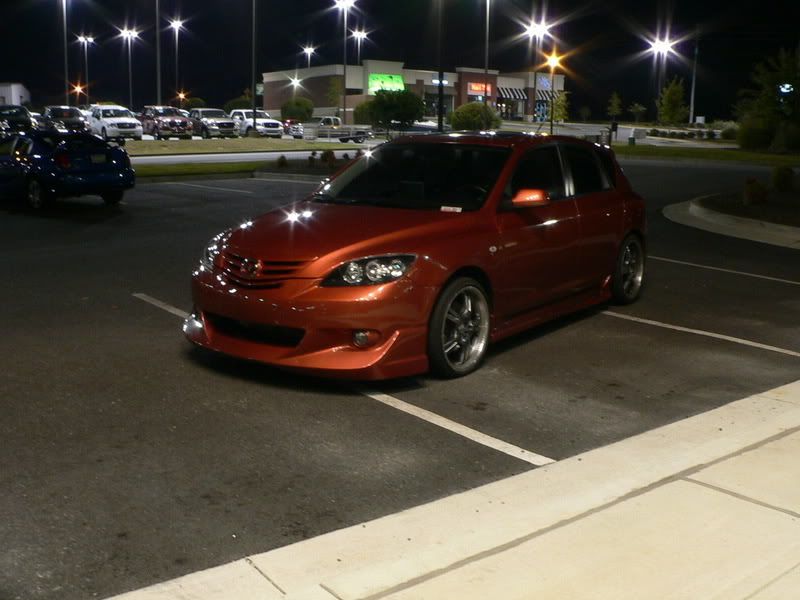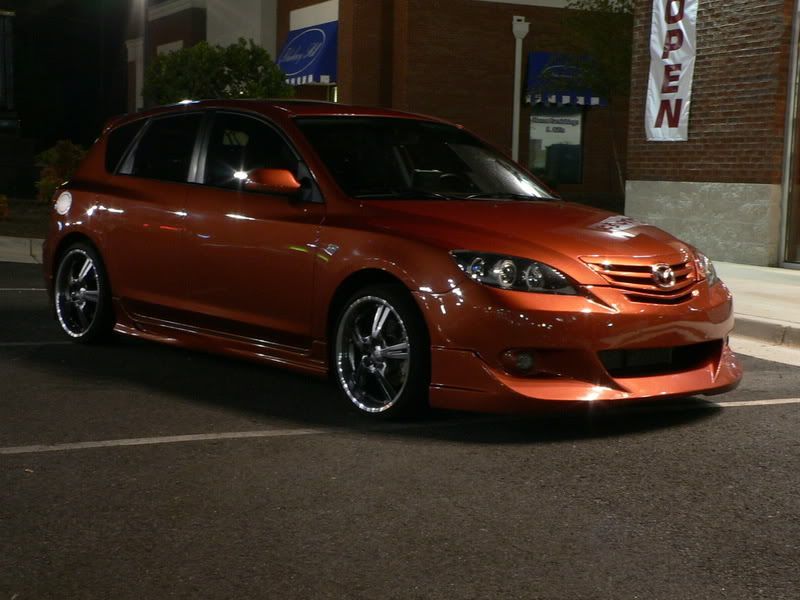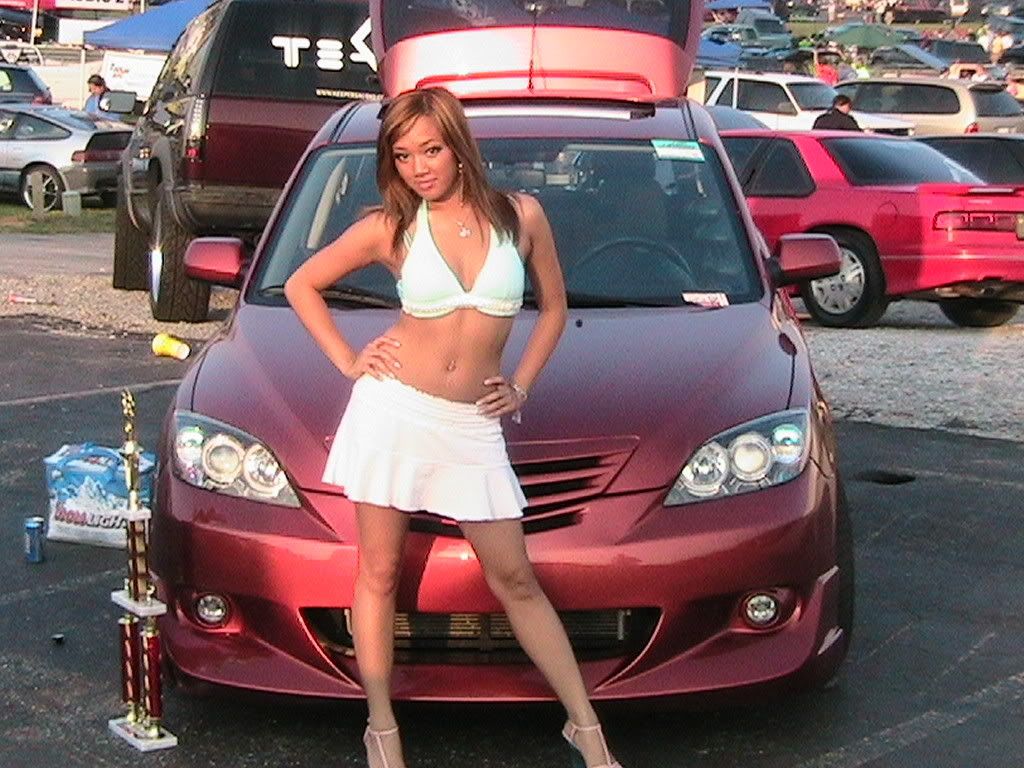 FemGearHead:
I am throwing my hat into the ring for the COTM.
I have a 2004 S Ti Grey Hatch. I have tinted the windows with 5% on the
rear windows, and 35% on the front two. I added Mazdaspeed pedals,
stubby antenna, Mint Blue eyelids, Mazda UK Chrome turn signal covers,
and a Mazda UK grille & garnish. I upgraded the tires from the stock
RSA's, to Kumho Ecsta ASX.
I keep the car simple in terms of mods, but make them just subtle enough
to stand out.