.: Tigermack's MZ3 :.
2011 SCCA ProSolo El Toro - 1st place FSP
2011 San Diego National Tour - 2nd place FSP & SM-F
2011 San Francisco Region Divisional - 1st & 2nd place FSP
2010 Tire Rack SCCA National Championship - 4th place FSP
2010 San Diego National Tour – 2nd place SMF
2010 Wendover Western States Championship – 1st place FSP
2010 El Toro SoPac Divisional – 1st place FSP & SMF
Sponsored by...
Kidder Transportation
Custom Performance Engineering
Competition Clutch
> Engine Modifcations<
AEM CAI w/ Hydroshield
AEM UEGO Wideband
AWR rear mount
Borla CBE
Radix Motorsports lightweight battery (14lbs)
CP-E Standback for NA 3
Draxas header
Exedy Stage2 clutch
Fidanza lightweight flywheel - 8.5lbs
Ford Racing flow matched 440cc injectors *not yet installed*
Mfactory helical LSD
StreetUnit passenger & transmission mounts
Test pipe
TWM short shifter
> Suspension/Chassis & Wheels/Tires<
Hoosier A6 245/40/17
Hoosier A6 285/30/18
Kumho V710 285/30/18
Kumho V710 245/40/17
Kosei K1 TS 17x9 ET45
Enkei RPF1 17x9 ET45
Enkei RPF1 18x9.5 ET45
SSR Comp-C 17x9.5 ET42
SSR GT-7 18x9.5 ET21
Ichiba 20mm spacers
Muteki open end black lugs
Mazdaspeed3 front sway bar
Tri-Point rear sway bar
Tri-Point rear endlinks
SPC rear camber links
K-Mac camber plates
AWR strut housing
Koni 8611 1256 DA shocks
Koni Yellow rear
> Brakes <
ATE Superblue fluid
Hawk HP+ (daily/autox)
Hawk HT-14 (track)
EBC YellowStuff
Techna-Fit lines
> Exterior <
Apexcone HID H7 6000K
Nokya H11 HyperYellow
GV front lip
> Interior <
Pioneer Avic-d3
Skunk2 knob
Sparco EVO & EVO2 seats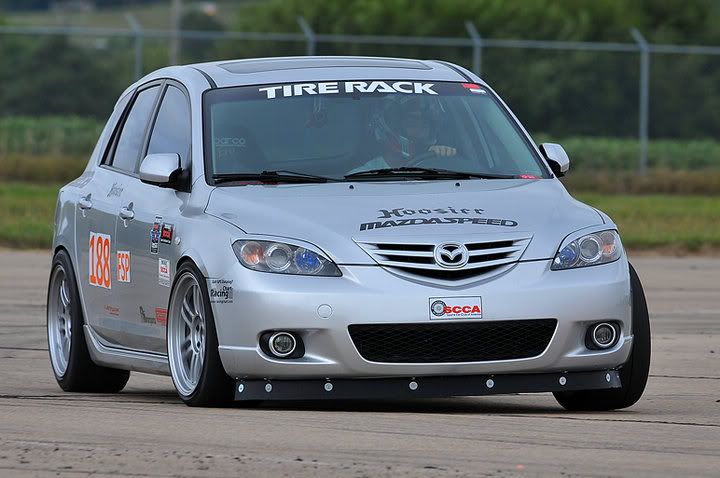 Links to the pictures & vids!
http://tigermack.zenfolio.com/p431773290/
http://www.youtube.com/user/tigermack
​