Discussion Starter
·
#1
·
I wanted a nice set of Mudflaps, Rally Armors were too damn expensive.
So I got ahold of the rally armor Pattern, and made my own.
I used the rear pattern for all 4 as the fronts are different.
I also made them about 20% bigger as far as length and a bit wider as well.
I went to Lowes and picked up 2 trash cans made from black Acrylic, pretty tuff yet still flexible.
Traced the pattern, got 2 out of each Trash can.
Not easy to cut, I used a dremmel and a small cutting bit at about half speed.
Nice and steady, keeping away from my outline.
2 hours later all 4 were cut and I sanded the edges smooth.
Total cost so far $15
I bought 8 push clips, and various clips.
Total cost now about $25
I used my pattern and also created my own mounting holes for better fitment.
The end results are priceless, looks better than Rally Armors to me.
Covers the tires completly and makes the car look very agressive.
Check out the pics below.
I had my new wheels installed today, I love how they look, so much better.
Check out the pics, cleaned em up a bit.
Effect Europa
These are 17 x 7.5 38 offset
215/45/17 - Only because they are recently new.
I plan to upgrade to 225's next time.
I am lowered 1.2 all around.
No issues with clearance at all.
I took it for a test drive around some tight corners and lots of dips.
Plans - Take off all side logo graphics and go for a clean look, tired of the roll call, will do this weekend.
Slideshow -
http://img3.imageshack.us/slideshow/webplayer.php?id=43598020.jpg
PART 2
It has been done, Decals are off.
Stage 3 will be tint
Stage 4 will be Two tone paint.
UPDATE 2/10/10
Found some new wheels for the Hatch.
Easily 10x better than what I run now.
Europa Black with deep blue polished lip
17 X 7.5 40 off set
Check these out


Well I thought it was about time I started my own thread.
I need to give credit to my current Sponsors, so here they are.
All of these offer great quality products and services, I highly reccommend all of them, if you need anything at a great price please check them out.
My current Sponsors include :
Afe Power ( Takeda ) -
http://wwww.afepower.com/index.php
Ultra Racing
http://www.ultraracing.com.my/Catalog.asp?Brand=Mazda&Model=3&page=1
Mazda3carpet
www.mazda3carpet.com
Kerazyleds
www.keyrazyleds.com
TIMotorsports
http://timotorsportsstore.com/live/
Darkstar Motorsports
www.darkstarmotorsports.com
Racinx
http://www.racinx.com/
MRZ Performance
http://www.mrzperformance.com/home.aspx
mazda3mods
www.mazda3mods.com
I have also partnered up with Kris and his page
www.krystmsgarage.com
I will be posting tutorials to help out all the Mazda owners from everything from basic maintanence to aftermarket parts.
This is my 2004 Mazda 3 Hatchback, I have spent the last 5 years making it what it is today. It has gone through many changes. All work has been done by myself from painting, interior, performance mods and exterior.
I show my car 15 to 20 times a year. Attending Charity and benefits mostly. Some would say I just collect trophies, but I really love meeting new people who have a passion for cars and making new friends.
I will spend anywhere from 10 to 15 hours preparing for a car show, fully detailing several times a month.
My Mazda is a big part of my life, it is an expression of my creativity. It keeps me calm and relaxed.
I know my Hatch is not everyones style, I have heard all the jokes about decals, I do what I like just like the rest of you. I like a bit of chrome and not into the blacked out look at all.
Mods list :
Engine Modifications:

Takeda SRI Intake
OBX Blue radiator hose kit ( Darkstar Motorsports )
Throttle body bypass
Coolant bypass
Buddy Club racing spec condenser
Custom painted engine covers
Mazdaspeed fuse box cover ( MRZ )
MRZ Performance Strut caps ( Polished ) (MRZ)
Custom painted under hood blue/silver


Exterior Modifications:

Speedline wide angle heated blue side mirrors
Pilot fog lights
Altezza LED clear taillights
Partplaza eyelids
Sharkfin antenna
Ventshades
Chrome door handles
Chrome mirror covers
Custom turn signal lights
Polished rear diffuser
Custom cut Mazda emblems
Billet lower front grill
Satin Nickel Fuel Door


Interior Modifications:

Ultra Lux Mazda3carpet
Mazda headrest covers
Mazda shoulder pads
Custom painted dash
Custom upholstery on all door panels
Custom upholstery in rear hatch
Mazda Blue/ chrome lighted door sills
Redline tuning elite hood shocks
Mazda racing pedals
Mazda dead pedal
Black dash mat
RacinX custom diamond plate floor mats
Carbon fiber / chrome E-brake cover
Custom Mustang Dash vents


Rims and Tires:

ADR Venomous 17 wheels blue/silver w/ deep polished lip
Kumho Ecsta Ast All Season High performance Tires 215/45 17



Exhaust Modifications:

Custom Magnaflow Turbo muffler
Stainless steel 2 1/4 pipe
Resonator delete
Secondary cat delete



Brake Modifications:

Stoptech cross drilled / powerslot rotors
Ferado racing brake Pads


Suspension Modifications:

GT Spec Ver. 2 Forged Strut Brace
Ultra Racing 4 point mid brace
Ultra Racing rear lower tie bar
Mazdaspeed rear camber links
Mazdaspeed front sway Bar
Mazdaspeed rear sway Bar
Aerospeed lowering springs



Lighting:

DDM 35 watt HID's 6000k
CCFL blue Angel lights
Oznium Inferno underbody neon LED kit
Oznium Inferno 1 foot tube ( front grill )
Oznium superbright LED'S
2 in cup-holders
3 in dash vents
2 on steering columns
2 in map lights
1 in dome light
Oznium cold cathodes - 8 under seats ( covers all 4 )
Chrome colored turn signal lights
Chrome colored rear turn signal lights
Hyper-white backup lights
Audio / Video
:
Stock for now.
I resized and retouched some of the photos below, nothing too crazy, just to give everyone an overall view of my ride.
I will add new photos as time goes on and post up a new video as well.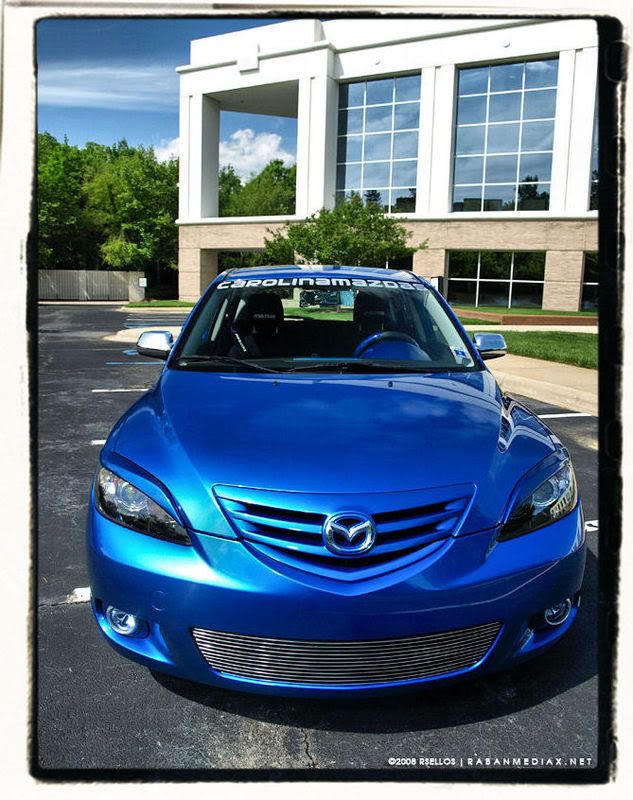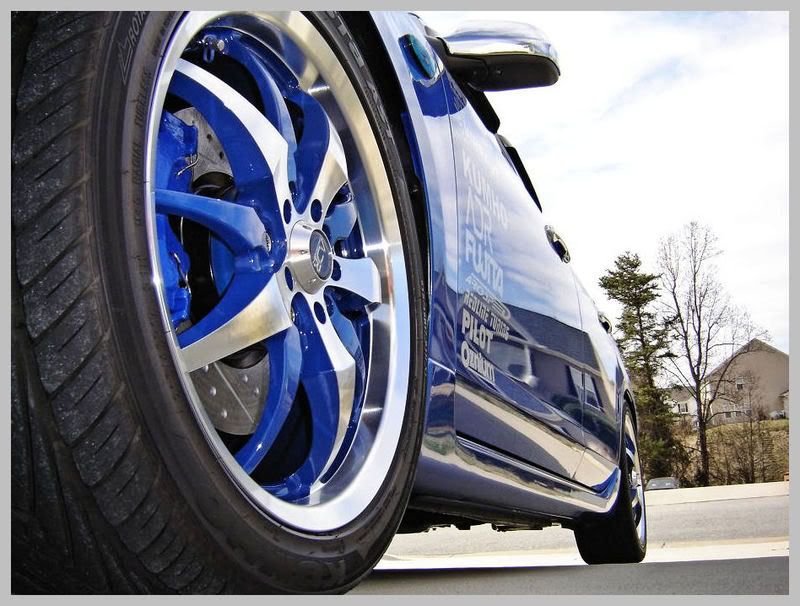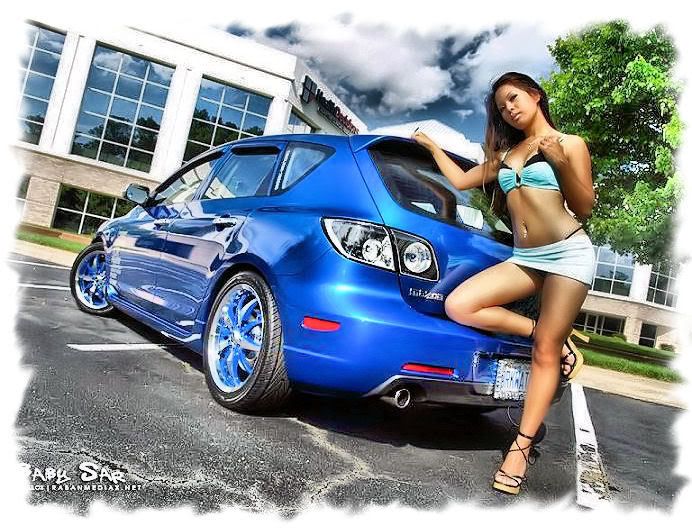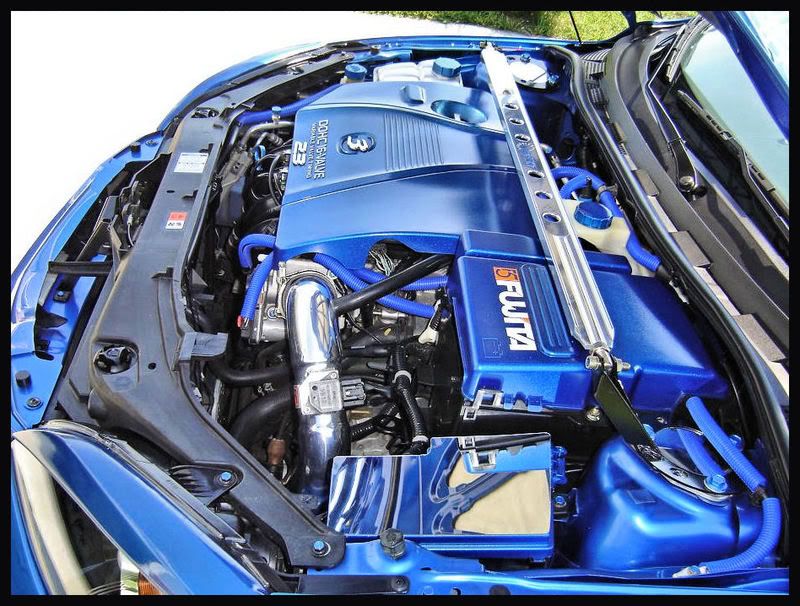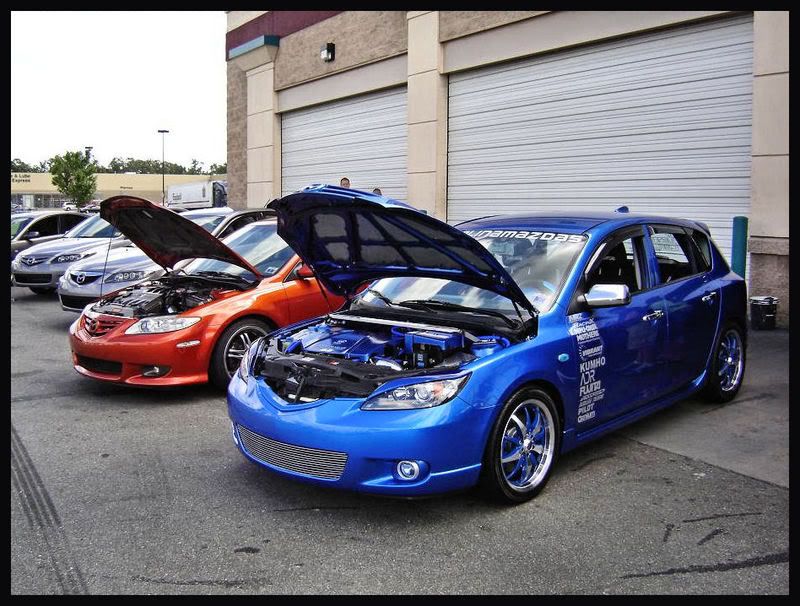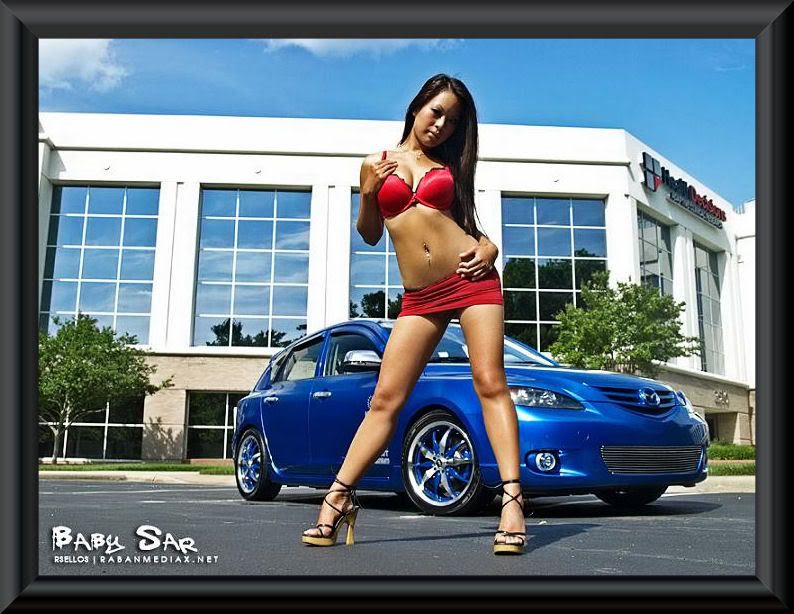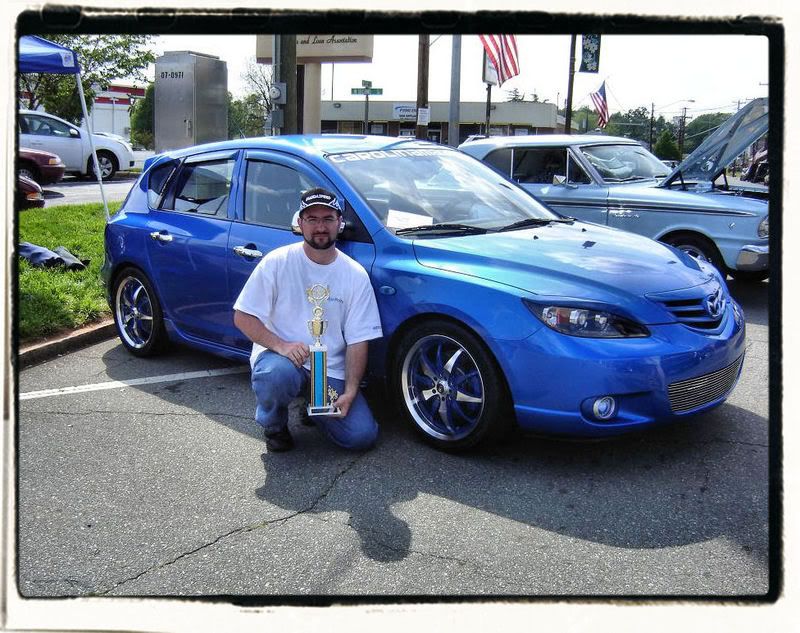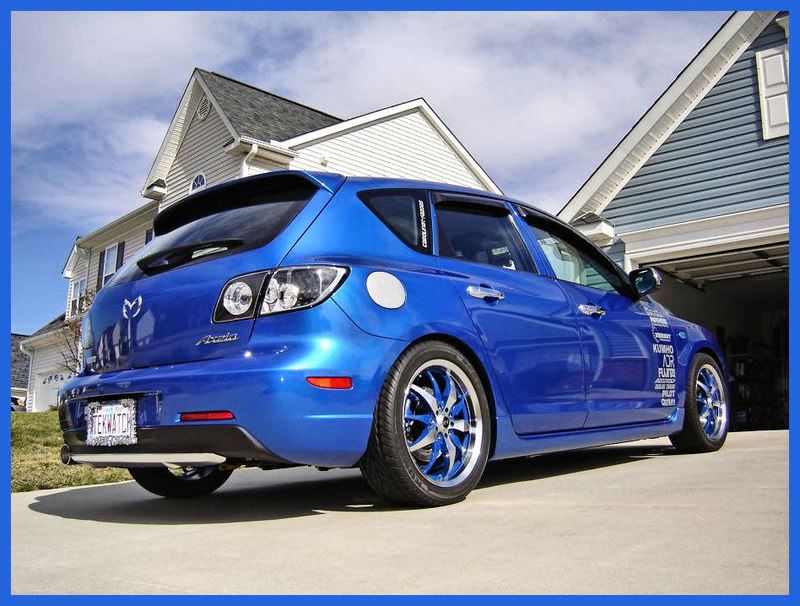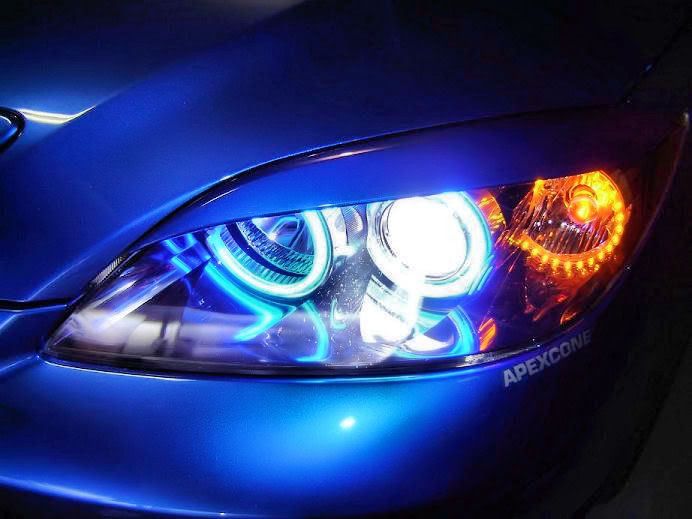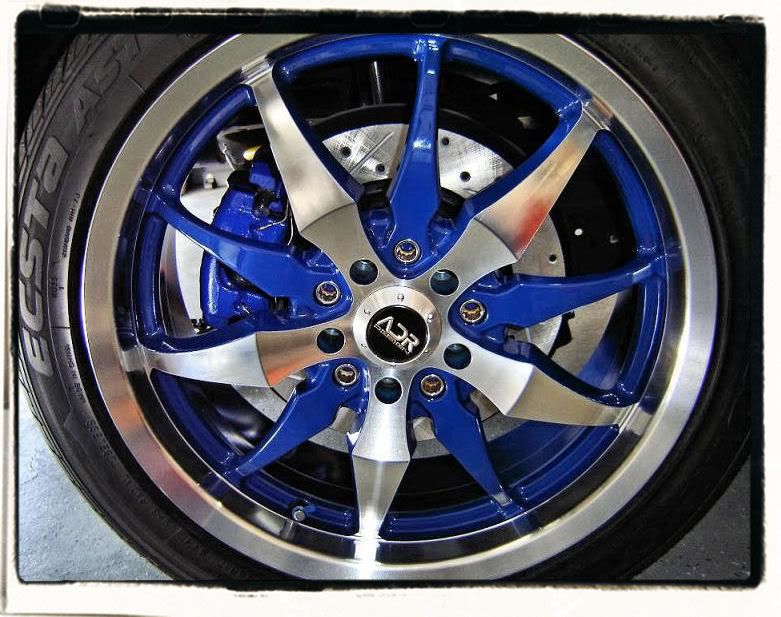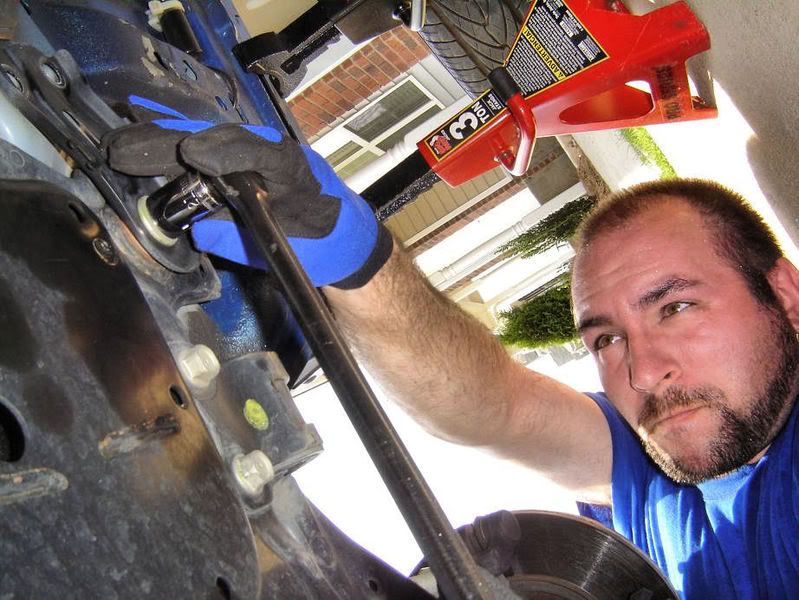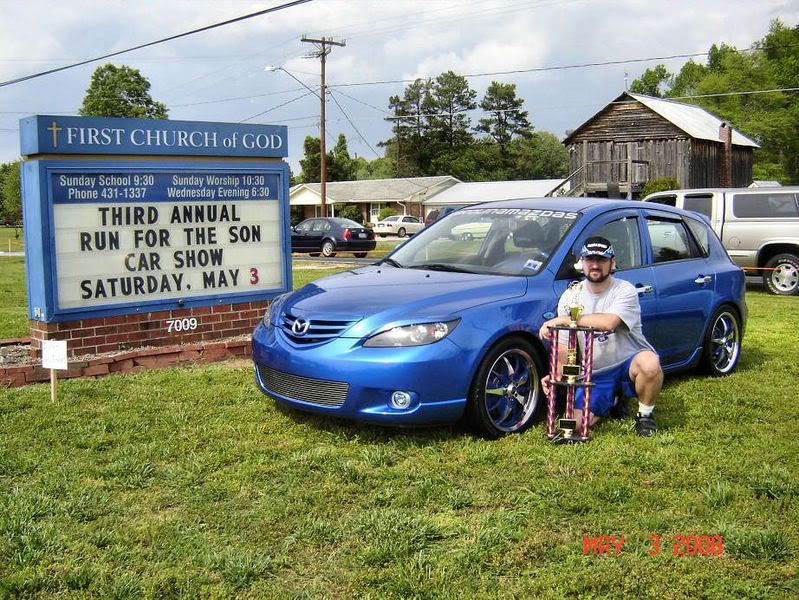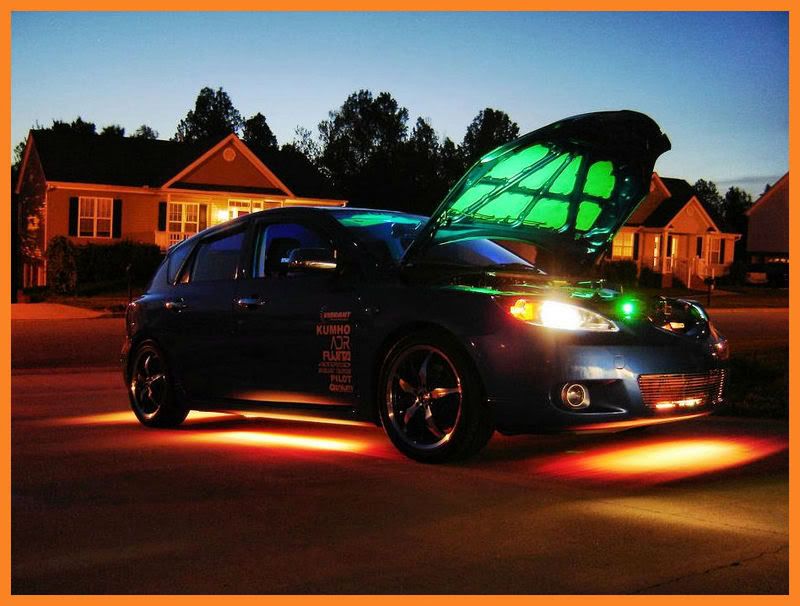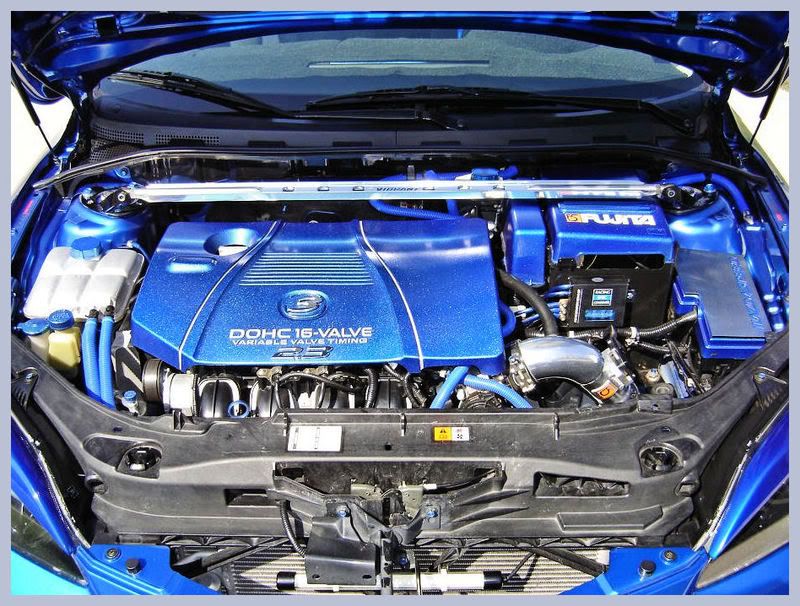 Installs
Angel eyes / Hid kit / led turn signals
http://www.mazda3forums.com/index.php?topic=132006.msg2834061#msg2834061
Here is the E-Bay link to the Amber LED strip I used.
http://cgi.ebay.com/ebaymotors/ws/eBayISAPI.dll?ViewItem&item=250338850552&viewitem=
Here is the Seller, great guy to deal with.
http://stores.ebay.com/480hp
How to : Coolant flush + Install of new Radiator hoses
http://www.mazda3forums.com/index.php?topic=136818.msg2949304#msg2949304
How to: Drain & Flush ATF fluid on an ATX Mazda 3
http://www.mazda3forums.com/index.php?topic=138381.0
Current Group Buys I started
GB Mazda 3 Headrest Trim Spacers
http://www.mazda3forums.com/index.php?topic=136546.msg2942709#msg2942709
GB BILLET AC KNOBS $30 Shipped
http://www.mazda3forums.com/index.php?topic=139319.msg3002351#msg3002351
GI - Mazda 3 04 - 09 Stero button / knob covers
http://www.mazda3forums.com/index.php?topic=133829.msg2876139#msg2876139
Update : These just arrived today
( Very excited, I hope to install these very soon )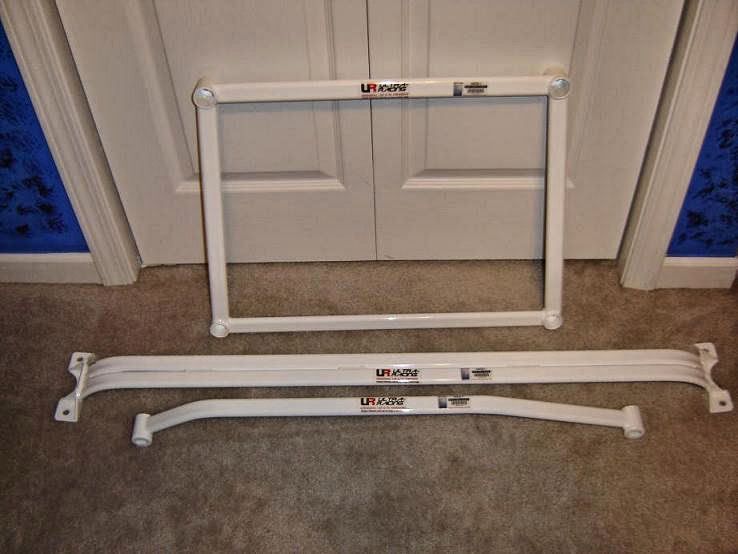 Update 2/26/09
Today I installed the rear lower Tie Bar.
Only took me 6 hours, yes that's right 6 long hours.
Who knew 2 bolts would give me such a headache.
Drivers side, no problem because I have a small turbo muffler, all the room in the world to work around.
Passengers side is right against the Gas Tank, leaving hardly any room to squeeze a ratchet in there and turn the 17MM socket, even a small one.
It took quite some time, but eventually I got it in and tightened up..
Tomorrow I will install the 4 point Mid brace, goes closer to the front of the car, the strut brace is on hold until I can modify or move the brake fluid holder.
Pics below.
* for those that do not know, you will see Yellow Sway bars, these are from a Mazdaspeed, I just painted them to stand out. *
Drivers side, Easy to remove bolt and install after Tie bar is in place.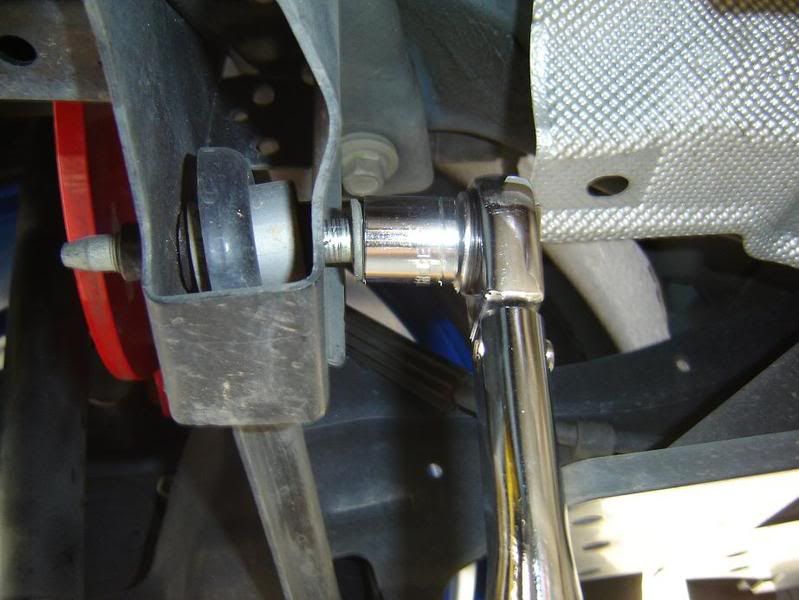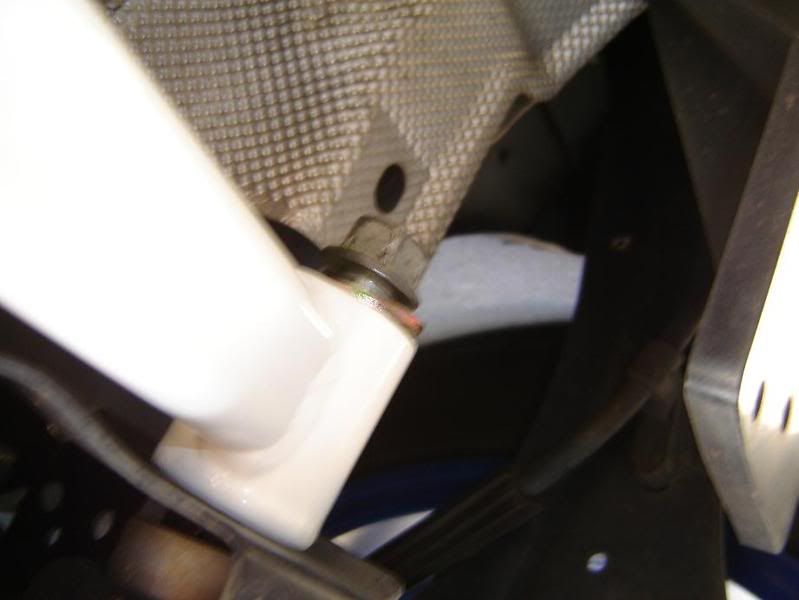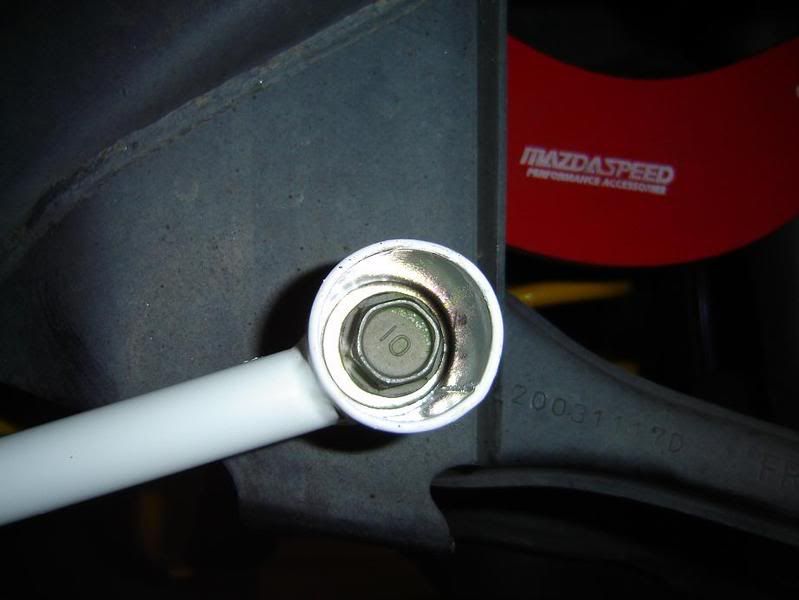 Passengers side was a nightmare.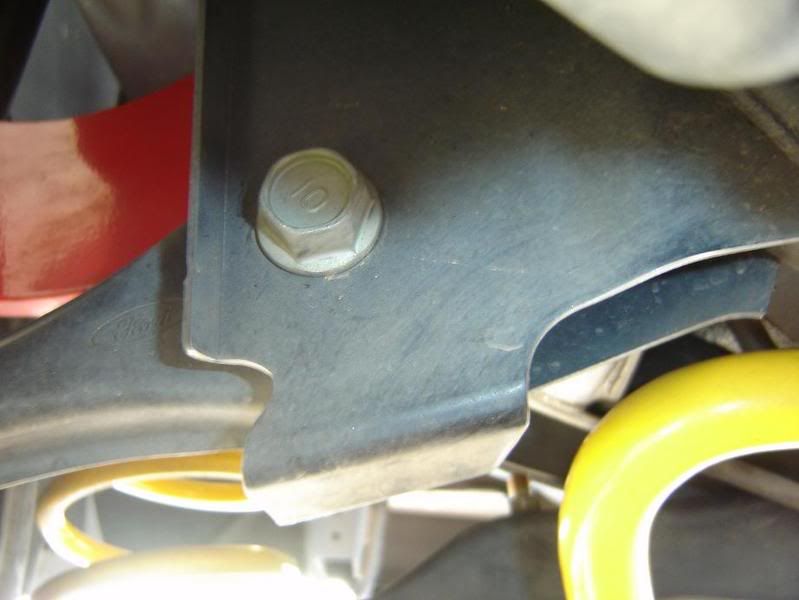 Looks like allot of room but really not enough to get a racket and 17mm socket behind that bolt, I had to hand turn it forever about 1/8 turn at a time.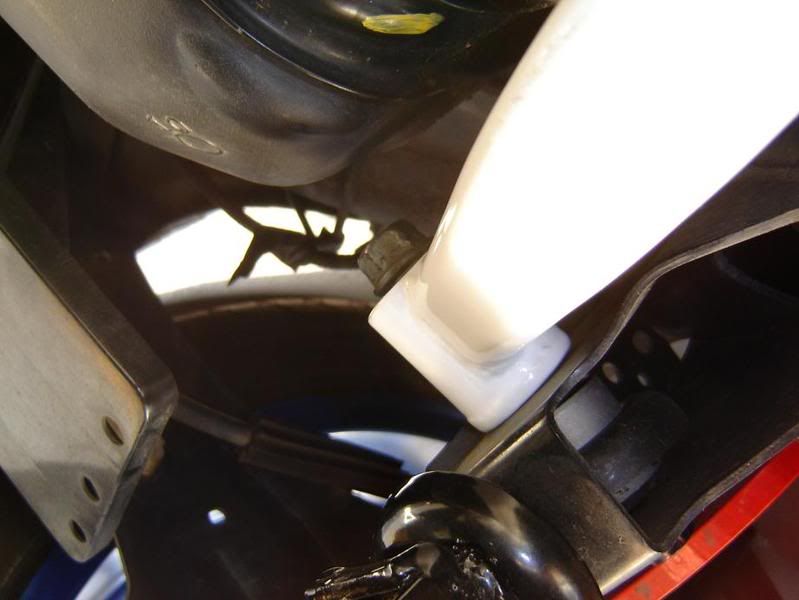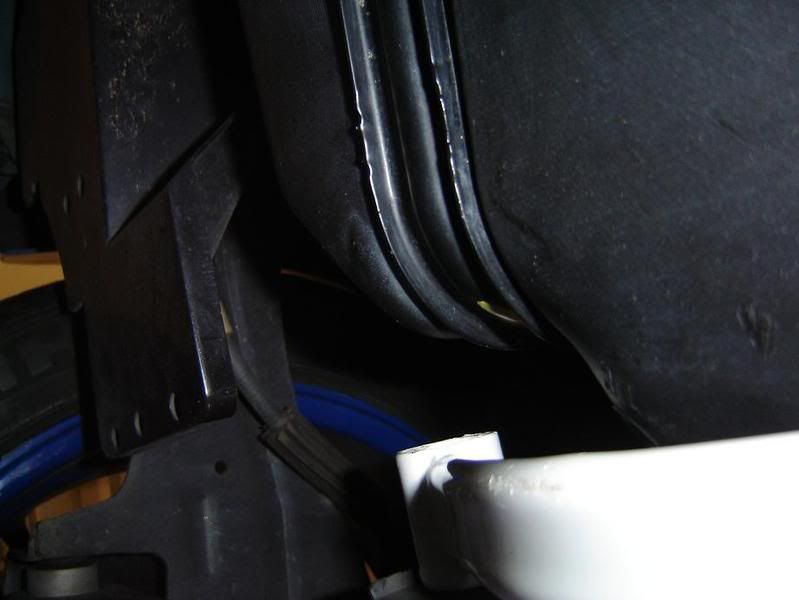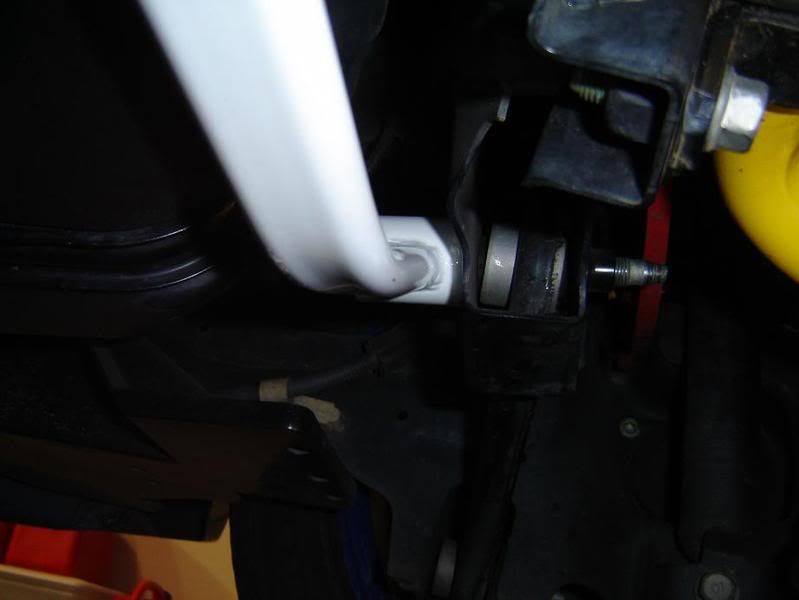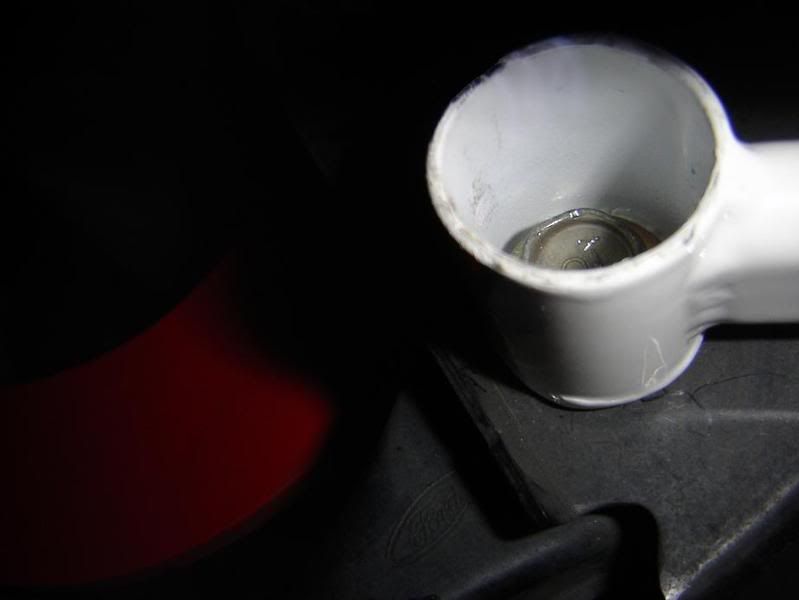 Finished..............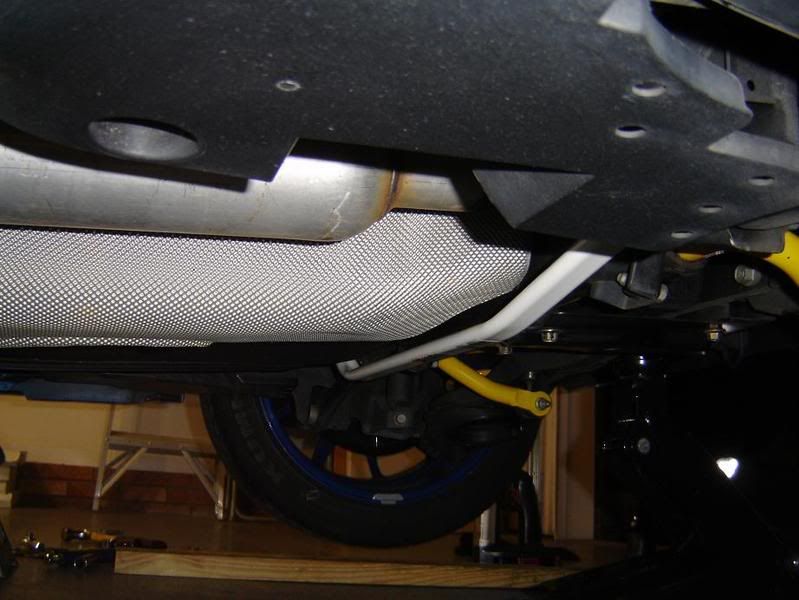 Part II - 4 point Midbrace is now installed
Tools needed
1- 4 point brace w/2 washers and bolts ( obviously )
1- Ratchet
1- Torque wrench
14mm short & long socket
16mm short socket
Mounting locations for front bolts, included with brace ( 14mm )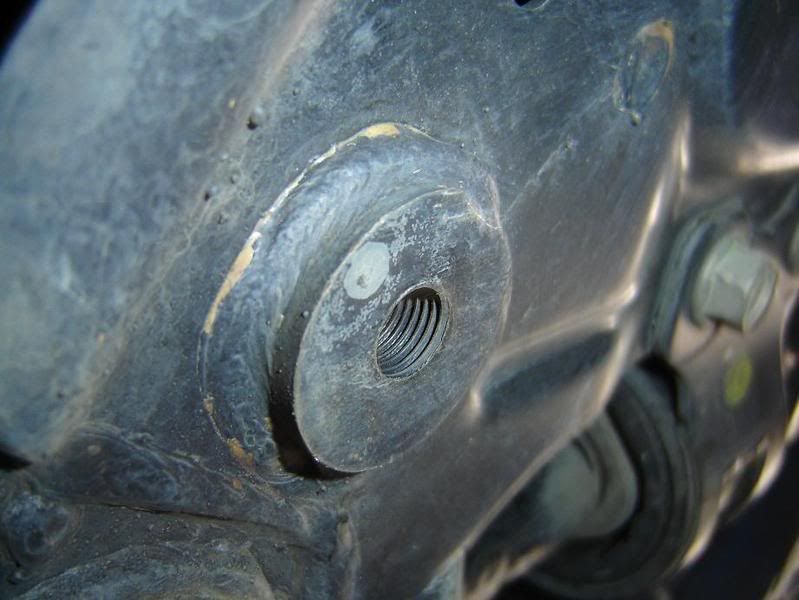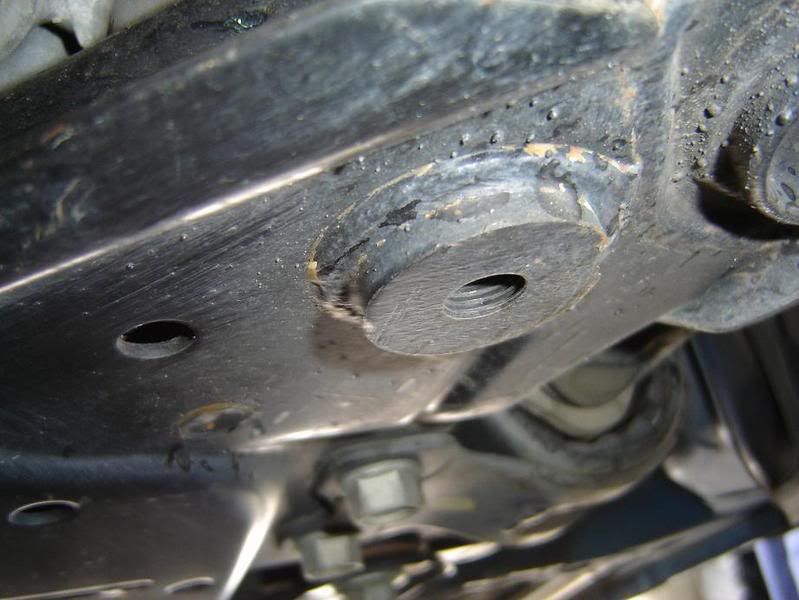 Rear locations, remove bolts and washers, they are 16mm.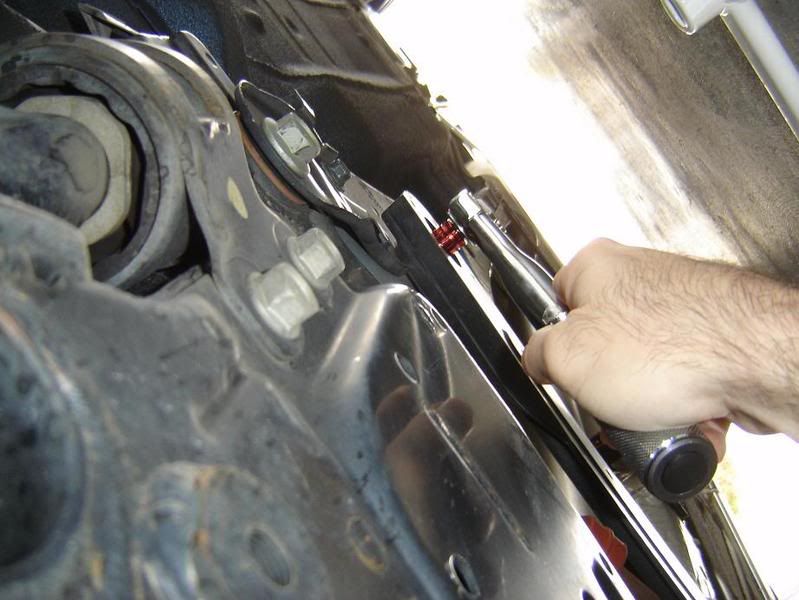 And the install, helps to have a friend, I had to do 1 bolt at a time and hold the brace in place, not too bad, it is really lightweight.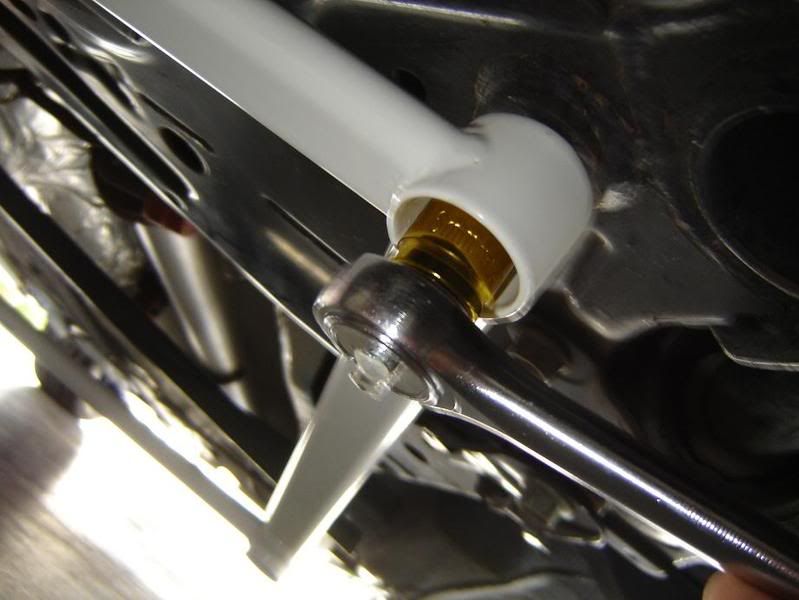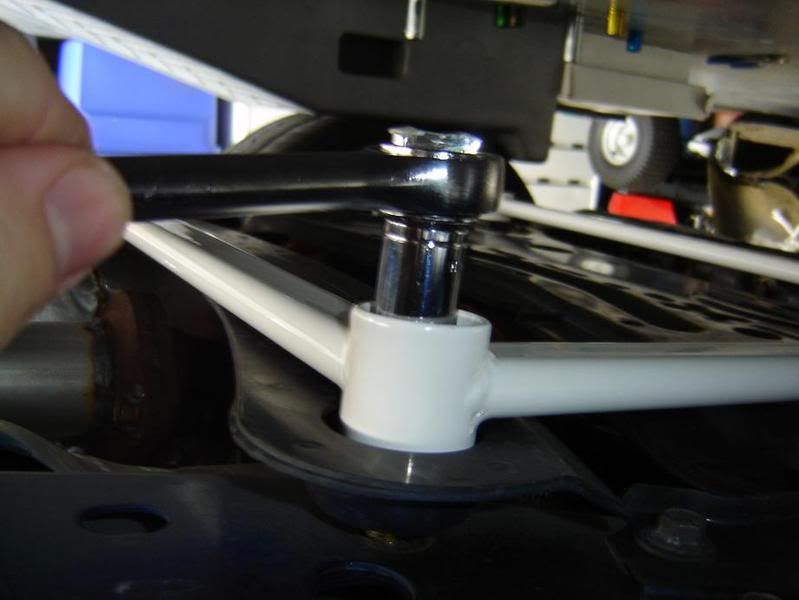 Ultra racing strut brace installed on 3-16-09
Well I finally got my Ultra Racing strut brace back from the powder coaters today. After a dispute on how much it cost, I paid $50, I was quoted $20 for the brace and another $20 for some other parts I had done.
Anyways , check out the pics, let me know what you think.
Keep in mind the strut brace had to be modified, I had to grind alot out of the curve that goes on the strut tower to allow my strut caps to fit.
I also had to cut 2 tabs off my Brake fluid holder, so I could push it down, otherwise the strut brace will not fit.
I had the spacer plates powdercoated as well, everything is Silver Metallic with clear.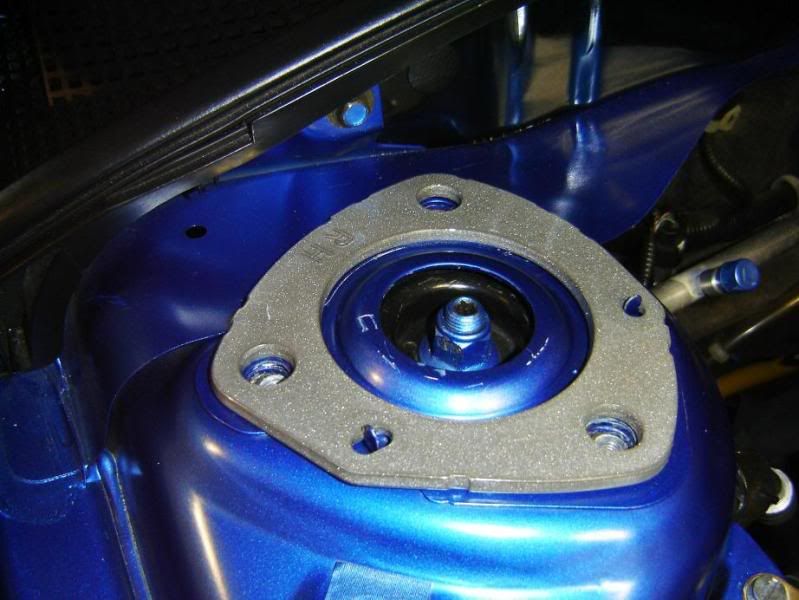 These are my custom Strut caps made by MRZ Performance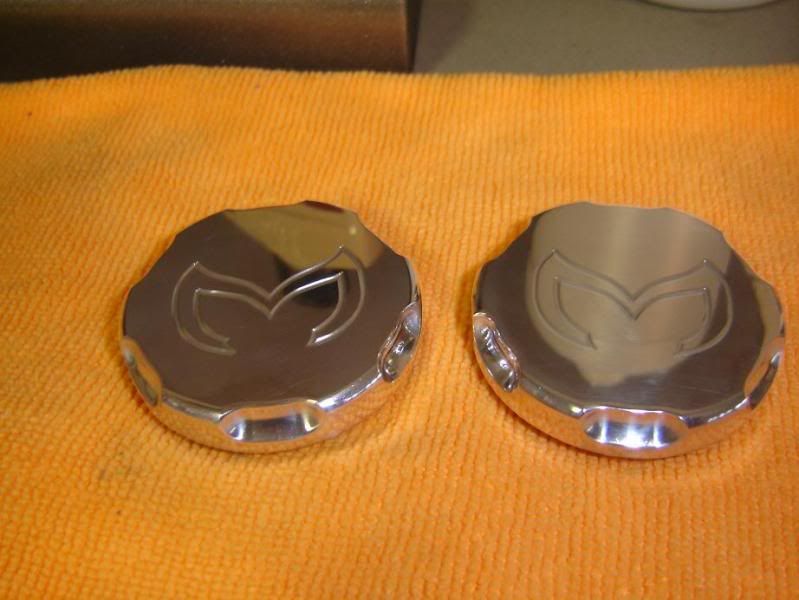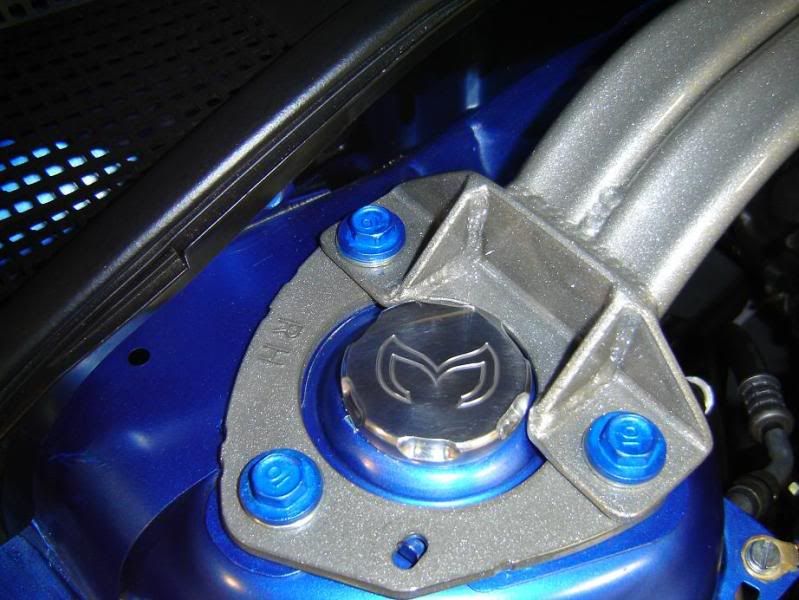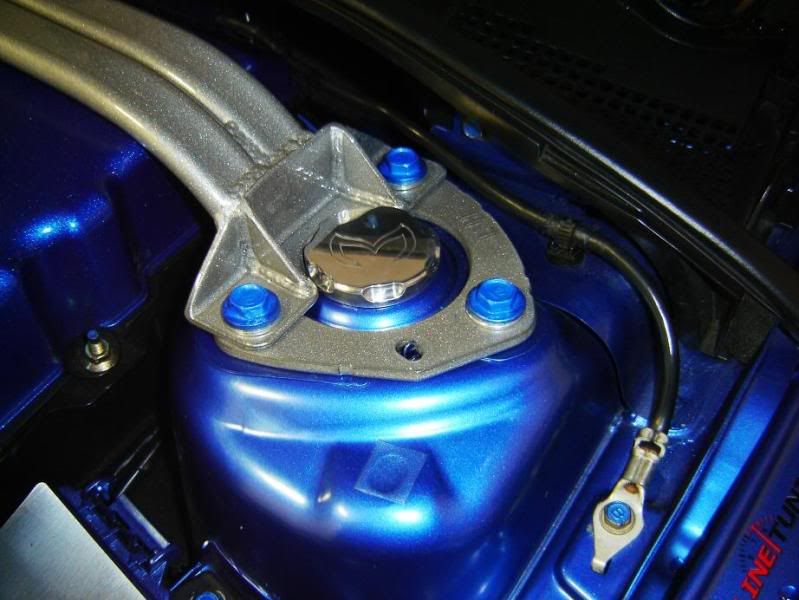 It sits way back, plenty of clearance.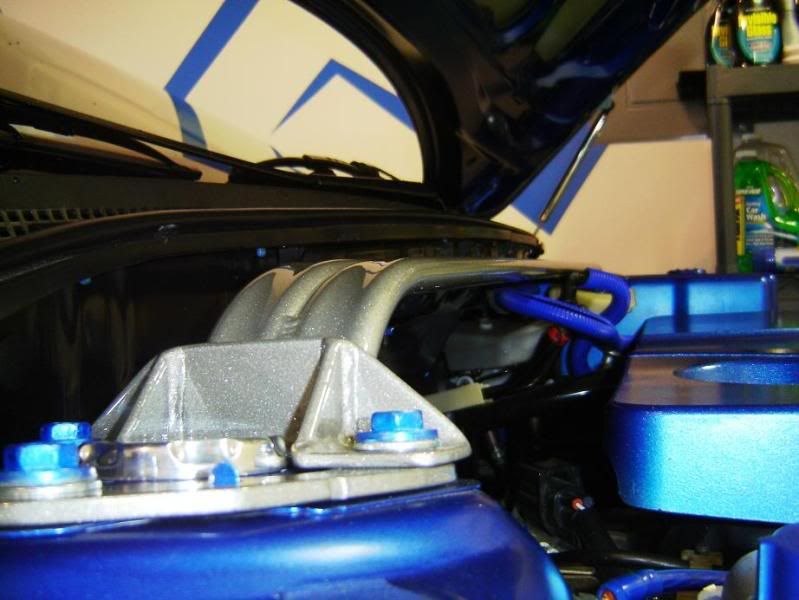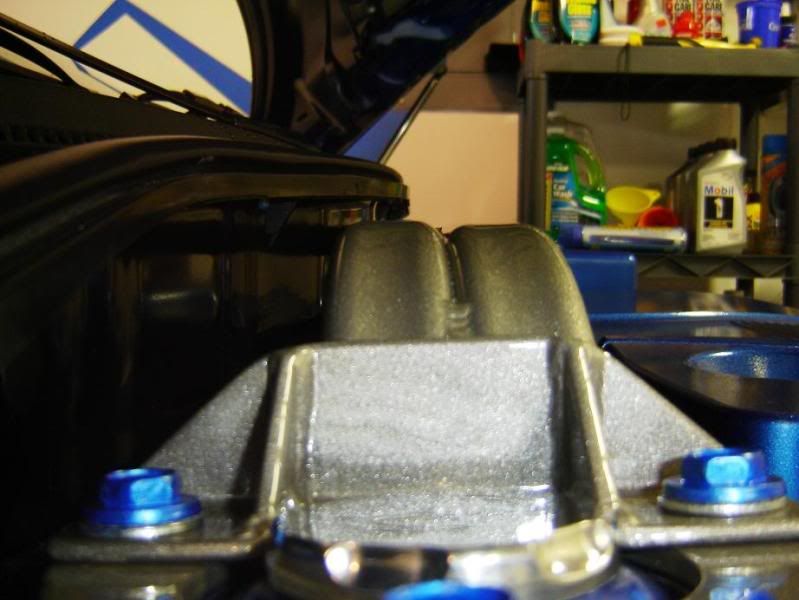 It clears the battery cover with the spacers in place.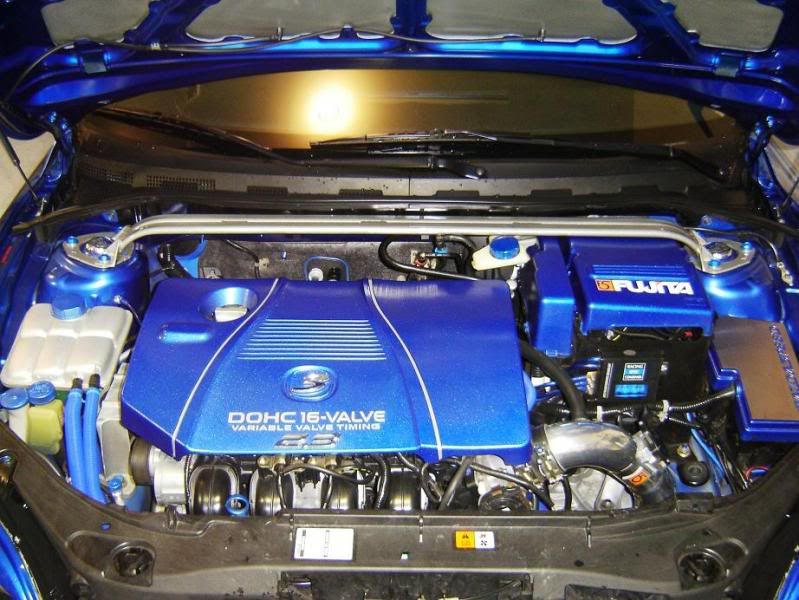 New smoked overlays installed : 3/30/09