Discussion Starter
·
#1
·
Re: I just got a 2009 Mazda3 hatch
I am now on my 3rd week of driving my new 2009 Mazda 3 Gran Touring 5 door: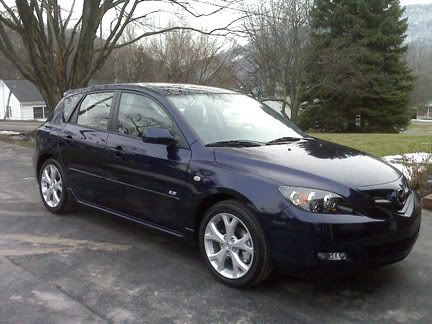 The next week the stock rims were replaced with a snow/rim combo from Tirerack, just in time for a couple inches of snow.
This is the 5th Mazda we've had in the family (previous models include a 1994 626, 1996 B3000, 2004 RX-8, and my wife still has her 2003 Mazda6 4 cyl. 5 spd). So far I am very impressed by the car in terms of comfort, speed, and build quality.
I was previously driving a modified MINI Cooper, and need to do something about the cornering of the 3, as well as the sound (exhaust and engine are too quiet!). So I will be curious to hear about the intake, sway bar, and catback mods people have done, or are planning.
Anyone add any racing pedals? I found a set of Autovation pedals on the rpm store online that includes a dead pedal for less than $100.
Great info on these threads for a Newbee!