Discussion Starter
•
#1
•
I built this beast in April after I had my jaw surgery. Super Awesome Custom Built by yours truly for gaming... Need to sale to build another system (Looking forward to I7 processor, DDR3, and gtx295)... If you have any questions please pm me… I spent a while researching every piece that went into this machine… I have spent over 2k on this system... SELLING DESKTOP TOWER ONLY, NO SPEAKERS, NO KEYBOARD, NO MOUSE, NO MONITOR!
Case: RaidMax Smilodon Black (two 120mm intake/exhaust fan, three 80mm fans to cool cpu, gpu, hd, and mobo)
Mother Board: EVGA 132-CK-NF78-TR 780I SLI (tri pci express slots)
CPU: Intel Core 2 Duo E8400 Wolfdale 3GHz Oc'ed 3.8GHz (Stable and Voltage within green zone)
Heat Sink Fan: Zalman 9500A 92mm 2 ball Cpu Cooler
Ram: G.Skill 4GB (2x2GB) DDR2 1066MHz... Will install another set of G.Skill (same model) for a total of 8GB before shipping
Power Supply Unit: Sigma Monster 850watt (Modular, Sli ready, 85% efficiency, 120mm fan)
Graphic Cards: EVGA 9800GTX+ and PNY XLR8 9800GTX (Clocked to run at the same speed) Core Clock: 783/ Shader: 1944/Memory Clock Speed:1134
Hard Drive: Western Digital Caviar Black 500GB (7200 rpm and 32mb cache = super fast)
Drive 1: LG DVD-r DVD burner w/lightscribe Black sata
Drive 2: Lite On Black 4x Bluray DVD Drive Sata 8mb cache
Os: Microsoft Vista Premium 64-bits (genuine and I will include cd)
Optional fan 1: Masscool 80mm case fan (keeps hd and mobo cool)
Optional fan 2: Evercool PCI slot case Cooler (keeps graphic cards cool)
Major Soft wares Included
Microsoft Office Standard 2007 (genuine)
Kaspersky Internet Security 2009 (genuine)
Nero 9
Cyberlink Power DVD
3dMark06 (scored 18,000+ on benchmark)
3DVantage
Games Included (no cd)
Fear
Gear of War
Need for Speed most wanted
Need for Speed undercover (has a mazdaspeed 3 )
Spiderman 3
Spiderman Web of Shadows
Spore
Wanted: Weapon of Fate
X-men Origins: Wolverine
Looking for $1600 plus shipping (please no low blow offers)
Front view closed (external hard drive ontop is not included)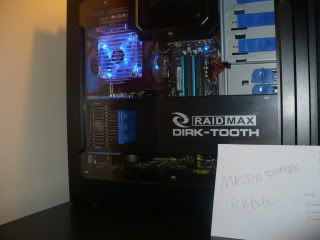 side view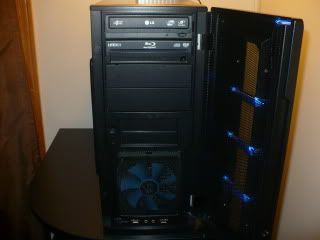 Front side open
Side view
Internal view
SLI'ed view
Bottom is a 9800gtx+ both are clocked at the same speed...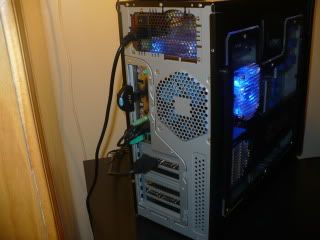 Back view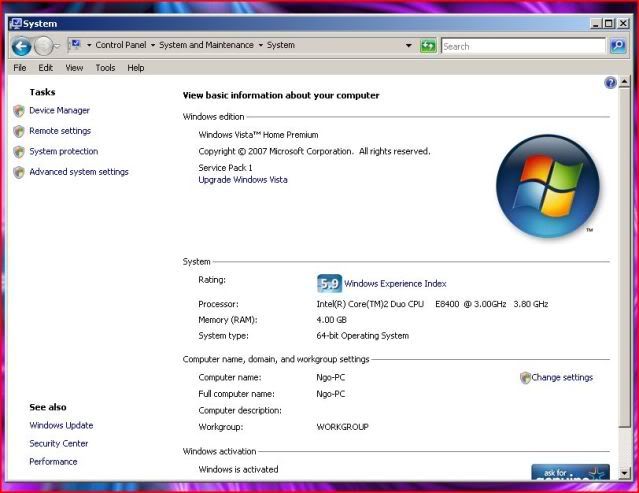 Info
More info (Min=at idle and max=full load on HWmonitor)