Discussion Starter
·
#1
·
So i've been surfing the forums for a long while, but just read and rarley posted. So I finally decided to make my own thread. I used to own a 2004 mazda 3, but um...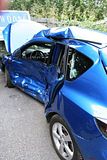 ...yeah. T-boned by a minivan.. blacked out... accelerator.. through a ditch.. hospital. Not fun. Im fine now.
So after not having a car for what seemed like an eternity, I have returned. Just a bit more speedy this time. So without further adieu i present to you Daphne.
Shes a 2008 black mica speed 3.
March 14th:
So yesterday in light of a having a new car, had finished washing her for the first time (then it rained), and finally having a replacement camera battery and charger (... i left mine in a hotel room.) I went on a little photoshoot. I know a little about car photography and photography in general, but i still consider myself mostly a novice so be gentle : P Also I made a temporary tag for fun until i can put my license plate on there, I sprayed it on the back of the dealer tag. It was the first thing to pop into my mind. (thats the font from L4D if anyone was curious)
All of these were taken with a Canon Rebel XT and a 18 - 55 mm IS lens.