Discussion Starter
·
#1
·
Transmission Motor Mount (TMM) - Medieval
One of the biggest scares for MS3 owners is the Transmission Motor Mount (TMM) failing. If this mount fails while you're driving, you're instantly disabled. Get off the road fast. You need to be towed in, and everyone will probably gawk at the sight of your engine on the floor.
Now, there is a recall [link] on the TMM, but it could still break. Also, you can't be certain that the recall was done right, or done at all, especially if you bought used.
Needless to say, the repair of a dropped engine will be costly. That is why you'll be in for a fight. The dealer and/or Mazda will try to blame the mount failure on "spirited driving." We all know that that is BS, but what would it take for you to disprove it? If you have any mods when it comes in, just go ahead and bend over right then and there. There is no way you're going to get that fixed under warranty.
So, what's an MS3 owner to do? Get a nice, strong TMM from Medieval Motorsports.
Medieval TMM, lower mount sleeve favoring one side, and without the washers.
My initial impression of this mount was that of sound. The engine and transmission sounds were now connected to the frame of the car through a "hot pour" bushing, instead of being isolated with gobs of rubber in the stock TMM. Noise, Vibration and Harshness (NVH) definitely increased. As with most hard parts, this did settle down quite a bit after it got broken in. The benefit to the added NVH was that there was little to no wheelhop. Let me say that again, NO WHEELHOP.
In addition to the added NVH was a low frequency "quake" when going from a stop. I can't describe it better than a quick quake, other than its a short duration low frequency resonance. Now, this only happens when I go from a stop with low revs. I'm far from bogging down the engine, but that's exactly what it feels like. A start from about 2k revs solves this, but puts more wear on the clutch.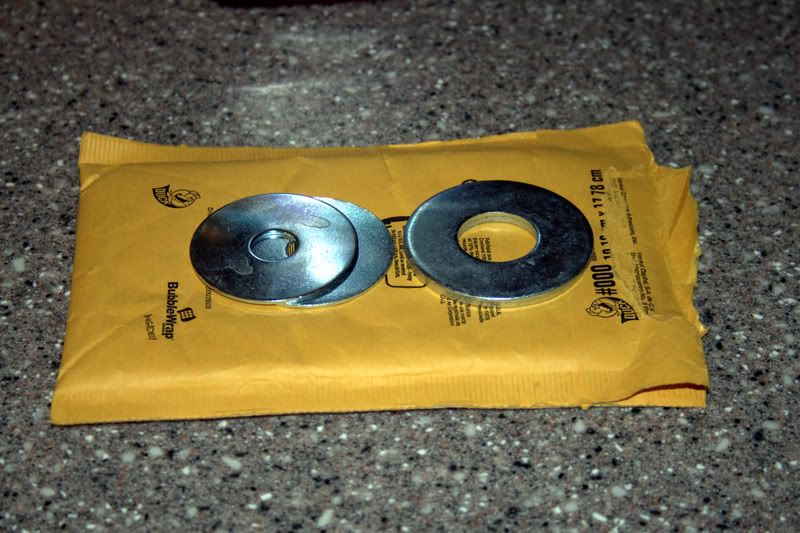 Even my corrected "Hardware Kit" wasn't correct. It had an extra washer and no bolt.
Beta
- I felt like a beta tester. I got mine without the shorter tripod bolt, and without the bushing washers. What I got after the installation was a "hardware kit," consisting of two washers for the bushing and an unexplained third washer. Man, the experience with getting a straight answer about the kit was painful. Being a limited edition car means that we have to take what we can get. Sometimes that means that early adopters are really beta testers. The PTP and Medieval TMM's prove that.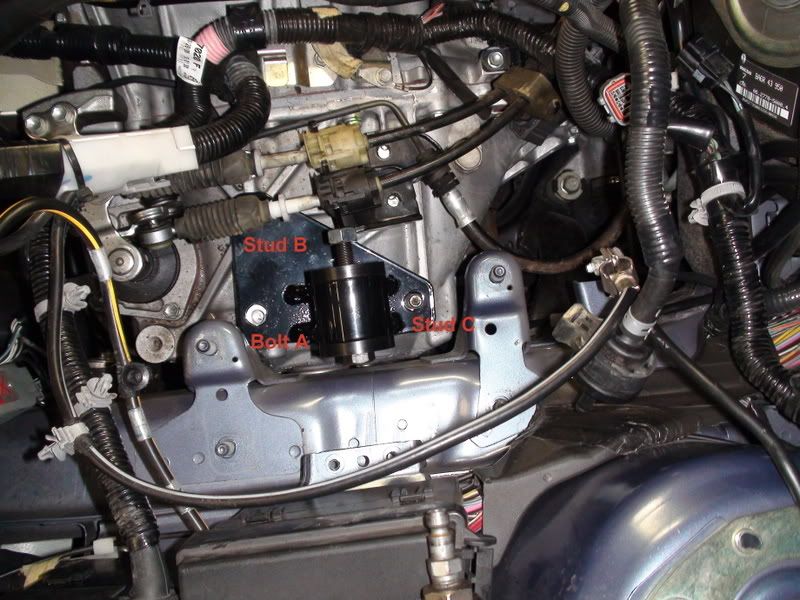 A shorter bolt or washers under the stock bolt are needed at Bolt A.
Shorter Tripod Bolt
- The stock mount is made of aluminum, which is thicker than the sheet metal that Medieval uses. Two studs come up through the tranny, but one bolt goes down through the mount. This bolt will hit the bottom of the hole because of the reduced thickness of the tripod. So, you'll either need to use a spacer between the bolt and tripod, or hope you get the right bolt. From what I understand, a shorter bolt now comes with the mount.
Stock Tranny Mount
Shims?
Now, there are two washers that need to between the bushing and the ears of the top plate. This didn't seem logical, didn't seem like they would fit, and hated having to go back in there again. In addition, I couldn't seem to get an answer that I could grasp from the vendor.
I'm not sure that the shims helped, because I had the PMM put in at the same time. But make sure you do it anyway, just because they said and you don't want to have warranty issues from bushing walk.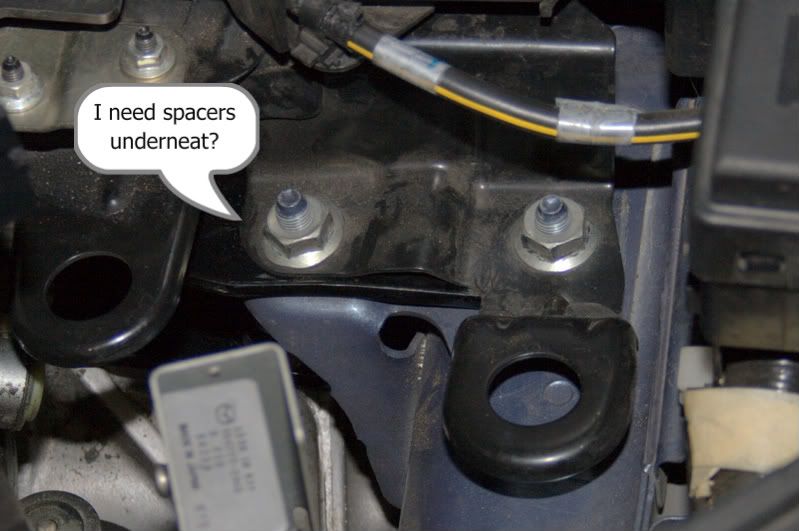 In some of the "beta testing" confusion, I was told that spacers were required under the battery tray.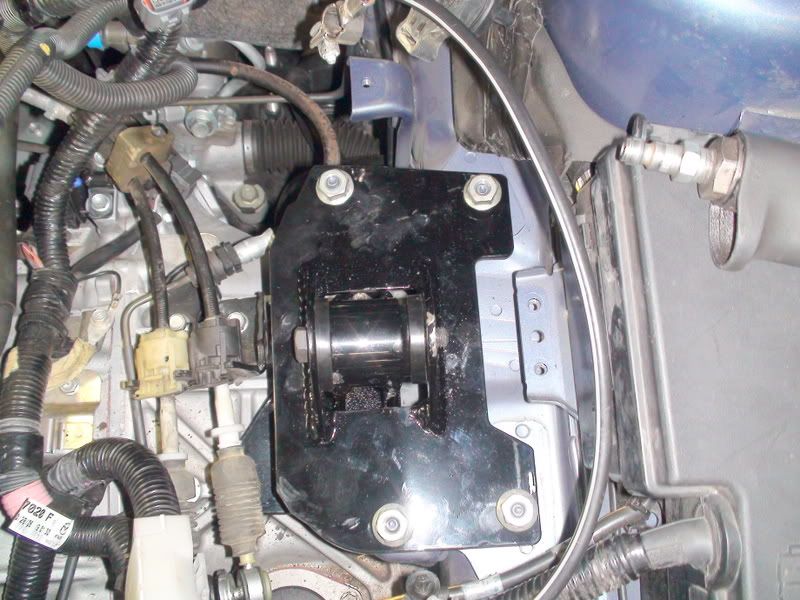 Top View of the TMM.
Passenger Mount (PMM) - Medieval
Medieval PMM stock picture. My install may have a clearance issue, causing a little rattle.
I felt that the PMM was needed because I didn't want to put the majority of the engine stress on the one mount. The addition of this mount reduced the "quake" considerably. When it does happen, its much less pronounced. I think it only does it when its cold (both engine and weather) and when I rev too low. One issue fixed.
Now, I may have a clearance issue with this one. The spec is for .25" clearance between the mount and its housing. Mine seems to be less on the side that is circled above. The reason I mention this is because I have what seems to be some deceleration noise.
When accelerating, all is fine. But if I were to let go of the throttle, there is a rattle on the passenger side. This seems to happen in the lower gears during medium to high revs. So using engine braking can reproduce this most of the time. Again, maybe this noise/rattle will taper down with more break-in time. Here is a response from the manufacturer:
[quote by Medieval]
The mount is centered in the bulkhead. When we designed it there was .250" put in for clearance. This clearance is a safety and warning net for you. If a mount bushing fails in the side mount you will hear a horrible metal banging noise letting you know something is wrong. If a rear or transmission mount fails the side mount will bang under acceleration. With all 3 mounts in place, we designed the mounts to allow no more than a quarter of an inch movement. Anything more and you will hear a bang letting you know there could be a problem. What you are hearing is more than likely the added NVH associated with solid mounts.
Also, the PMM is grounded to the block. So you can either relocate the ground wire, get a grounding kit, or do nothing at all. I'm not sure of the disadvantages of not grounding the block, but we relocated it anyway. I also have a ground kit on the way, just for kicks.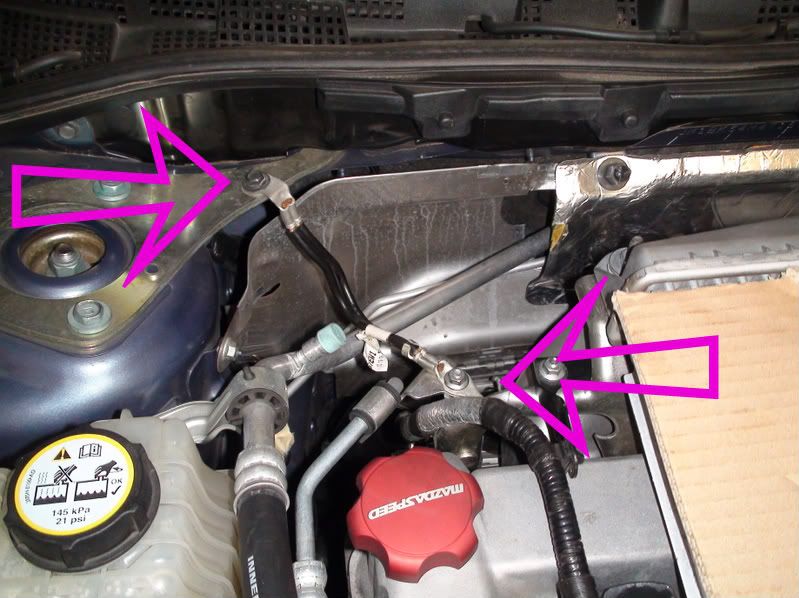 PMM ground wire requires a relocation.
Shifting
- Another benefit is more precise shiting. I have the shifter bushings, the TWM Short Throw Shifter, Red Line tranny fluid, and I even cut my counterweight. But since the mounts keep the block and tranny in place, the shifting seems a little more crisp.
Bottom Line:
If you don't want your engine to fall out, if you're tired of wheelhop, or if you're looking for a temporary hand and butt massager, go get yourself the Medieval mounts. NVH is increased, but so is safety and performance.
Vendors
Darkstar Motorsports
- I had to manually put myself on the paid list for the Group Buy. I had to make sure of that because I needed it delivered by a certain time. A meet/greet/handoff wasn't allowed, which is weird, because he is local to me. But he seems to have great prices and a lot of Group Buys. I just don't feel comfortable working with him. Maybe things will change in the future.
Dabears2k
- Got the passenger mount from him. Local meet up and good price. He has the same mounts installed on his car, so we share the same experiences.
Me and my mechanic
That's right, I don't wrench. I've learned from past experience that its easy to be stranded on the side of the highway because an intercooler hose clamp blew off. My mechanic has a lift, air tools, certifications and lots of experience. But I still get involved if I can. So I pay a pro to do the hard work. Get over it.