Discussion Starter
·
#1
·
So Yesterday my buddy and I installed the Medieval/Darkstar Transmission mount (along w/ boost gauge & Turbo Timer) and all I gotta say is...WOW. Feels GREAT!! Did some more driving around tonight to get a better feel and better impression and it just seems to feel better and better. I didn't know there was that much room for improvement, even considering I already have an upgraded rear mount (SU)!
The pain in the ass install was well worth it!! This is how the car should feel from the factory. Our stock mounts are really piss poor (not just the rear mount). The stock lower bracket that bolts to the transmission is a lightweight crappy aluminum POS, no wonder that thing snaps in half. The engine feels even more planted and solid now than with the rear mount alone. To try and quantify it, the improvement with adding this mount (if you already have a rear mount) is about the same improvement gained going from the stock rear mount to a solid aftermarket rear mount. It feels that much better. The best part about it is the clutch engagement is AWESOME and feels sooo good. Shifting has drastically improved. No more rocking back and forth when shifting even if you shift sloppy. It just goes FORWARD! As for wheelhop, I have bald-ass stock summer tires in cold ass weather and I still got slight wheelhop but not nearly as much as before (I still got bad wheelhop in the cold even after the SU MM). We'll see how it feels with my new tires when it warms up. Here's the second best part...NO ADDED VIBES! Not even at idle, I'm serious. You can't even tell it's in there until you start driving, then you know in a good way. By looking, you can't even tell it's in there either, nice and stealthy black. I did notice a slight whining sound at idle and low rpms with the windows down, probably from the transmission. It sounds kinda cool actually. Not bad or loud at all. Not nearly as loud as in that video of the other tranny mount (god no).
Stock upper tranny mount (You can probably use those two washers for new mount)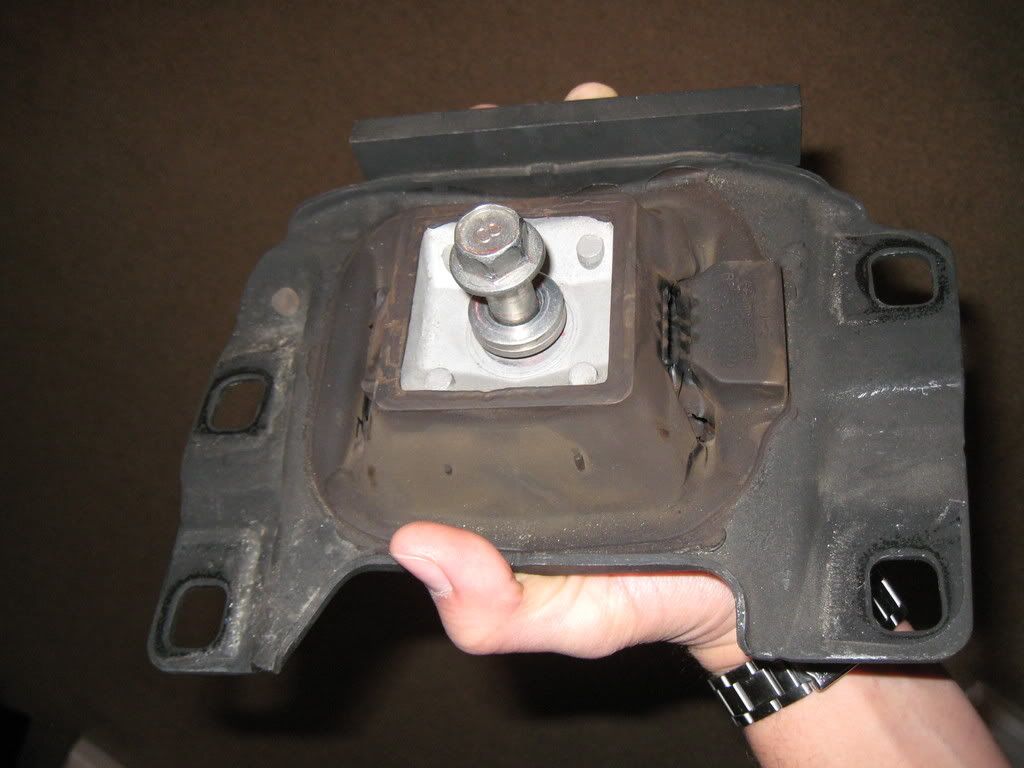 Shitty Aluminum lower bracket (bolts to transmission)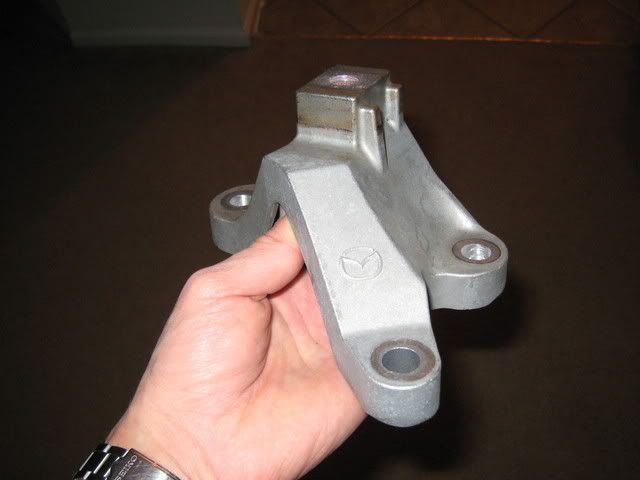 Mount & bracket together w/ bolt sticking out (how appropriate :lol
View in engine bay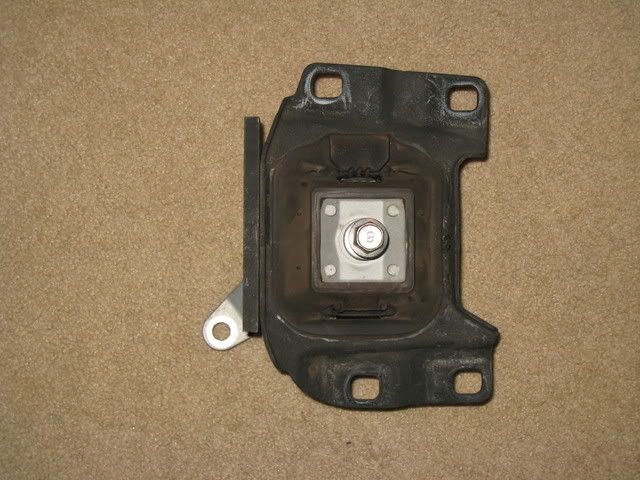 Install was kinda rough, I admit. Be ready to do much forced fitment. Have a rubber mallet, hammer, breaker bar w/ 12" extension handy. Remove battery, support the tranny with a jack, constantly raising and lowering to fit. I'm not sure where the washers were supposed to go but I did use a couple washers under the lower plate, on the bolt closest to driver. I did that to tilt the bushing slightly forward to match up to the top plate's bolt holes. You also have to remove one of the shifter linkages (easy) to access one of the bolts. Sorry I don't have pics, didn't bring my camera to my bros house. If you have any questions, hit me up in a PM and I'll help you as best as I can.
Medieval got it right with this mount, replacing both the lower and upper tranny support mounts. I just hope it holds up...the transmission.
Must-have Tools:
Torque Wrench (I used 65 ft/lbs)
Rubber Mallet
Hammer
Breaker Bar
12" or longer extension (to make room for breaker bar)
Various Metric and Standard Sockets (don't remember exact sizes)
Loctite
Lots o' Muscles
Patience