If you are interested in an item PM me with the name of the item(s) you are interested in in the subject line. Give me your postal code for a shipping quote.
Flex Innovations 4 AWG amp wiring kit with integrated fuse/holder. gold plated connectors, MADE IN MERIKKA! (orange wrap is easily removable): $45
OEM top hat. missing one integrated nut. I had it on my car using a nut and bolt on that corner. All bearings, never popped open, just missing the one nut is all. Great as a backup/insurance for when you install your suspension. $15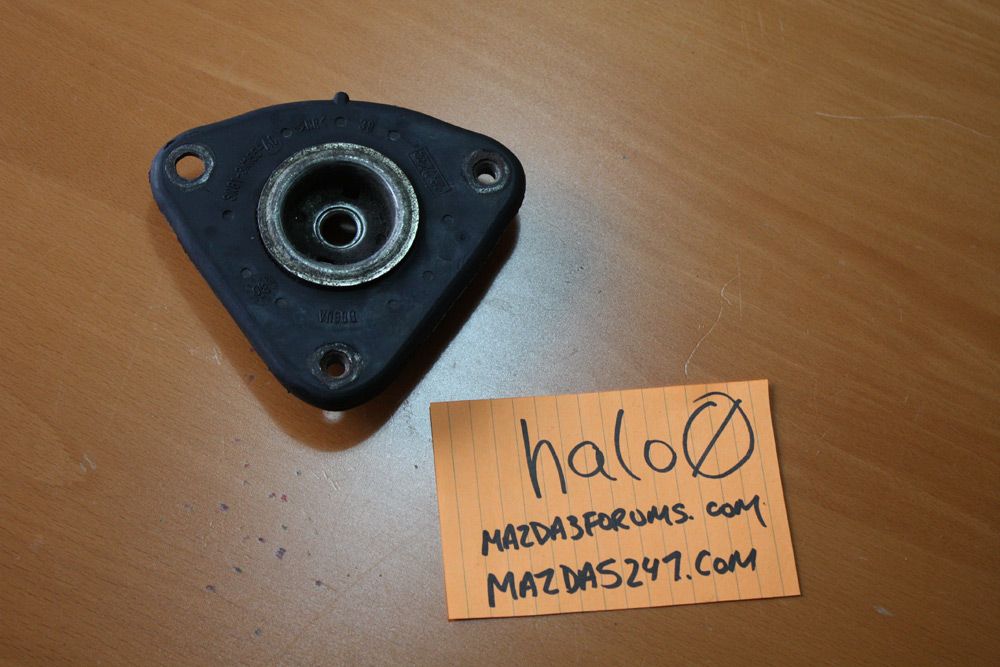 *******************************************************************************
[SOLD]
Redline Goods leather shift boot and e-brake boot. Shift boot works for manual and automatic transmissions: $55 (cost $105 new)
[SOLD]
Adjustable damping Koni Sport shocks (koni yellows). These are being sold with a bit of a caveat. All 4 shocks work great, and no leaks. They have about 30k miles on them. The caveat is that when we were removing them from the car using the e-jack trick the lower spring perch on the front struts got bent upwards slightly. You can't tell there is anything wrong with it unless you have the spring sitting there. What happens is the spring is not perfectly flat against the spring perch all the way around. I honestly think it's likely that it would work fine once installed and the weight of the car is pressing everything together, but I have no way to know for sure. I also think it's probably safe but again, I don't know for sure and want to make sure any buyer is aware of the situation. In the last 2 pics I show the gap you can see where the spring does not sit flat. It may be possible to get the spring perch back into shape somehow, but I don't have the time or inclination to mess with it. The front struts are being sold AS-IS and at the buyer's own risk. There is nothing wrong with the rear dampers. These usually go for around $400 used. Asking $225 shipped.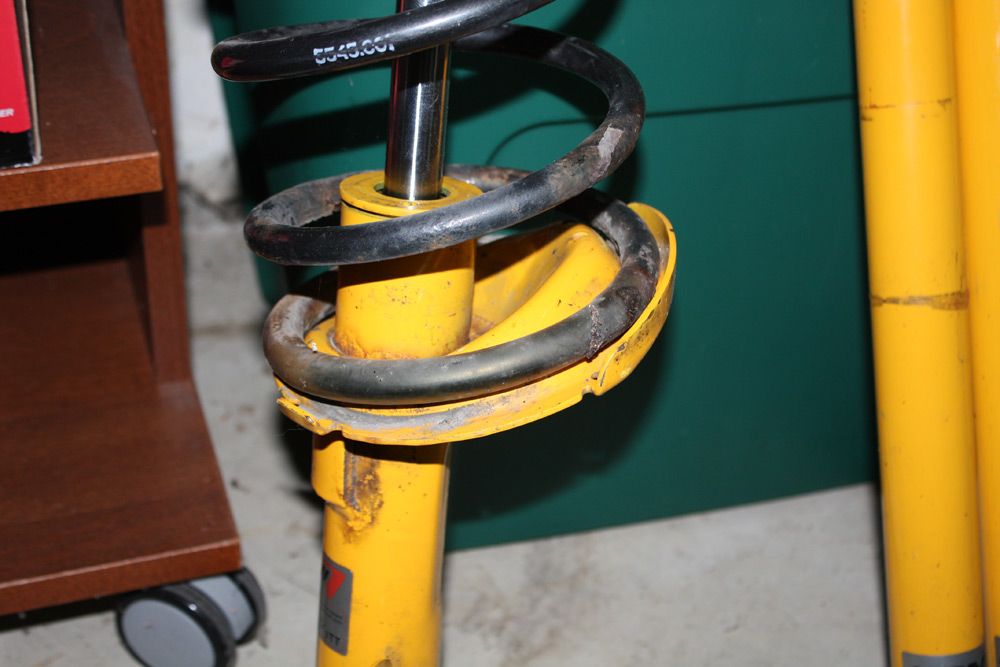 [SOLD]
Partplaza Galaxy Gray eyelids. you're in luck, comes with tape
! $50
[SOLD]
Custom built 10" stealth box. Comes with a rear hatch side panel that is already cut to fit it. You keep your stock panel intact. Trust me, that is huge if you know how much the dealer wants for one. This box fits a JL 10W3v3 very nicely. Box is wrapped in dynamat and comes with polyfil and speaker cable. $250
installed:
[SOLD]
Stock rubber arm rest cover: $10
[SOLD]
GT Spec strut tower bar. has a couple fingerprints in the pics but once you polish it looks like a mirror. $150
installed: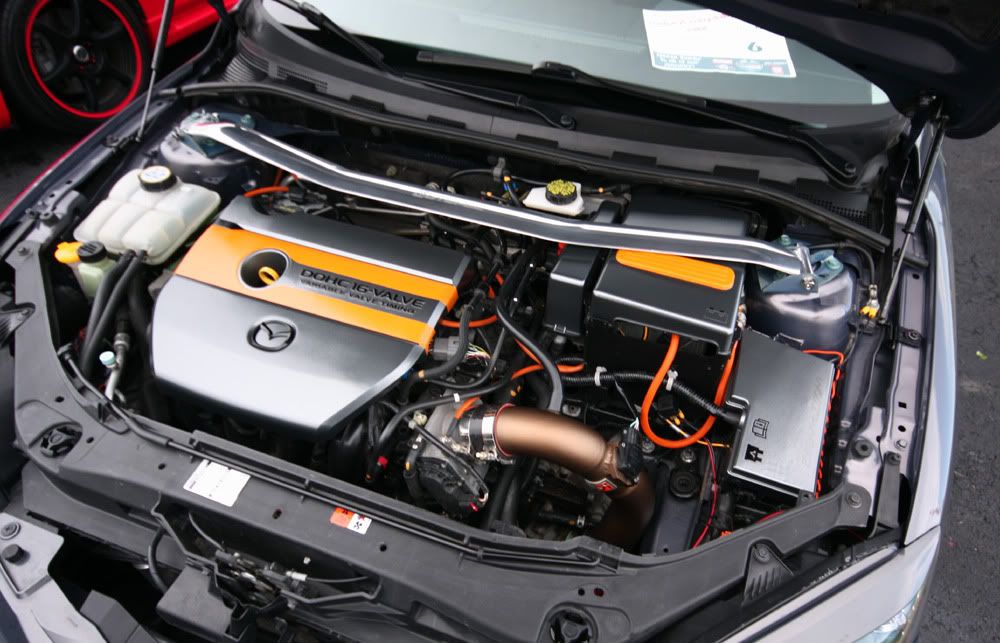 [SOLD]
OEM Mazdaspeed3 front and rear sway bars. Rear bar has newer OEM Speed3 endlinks already installed. Ready to go on your car without worrying if your stock rear endlinks are seized (which they probably are). $250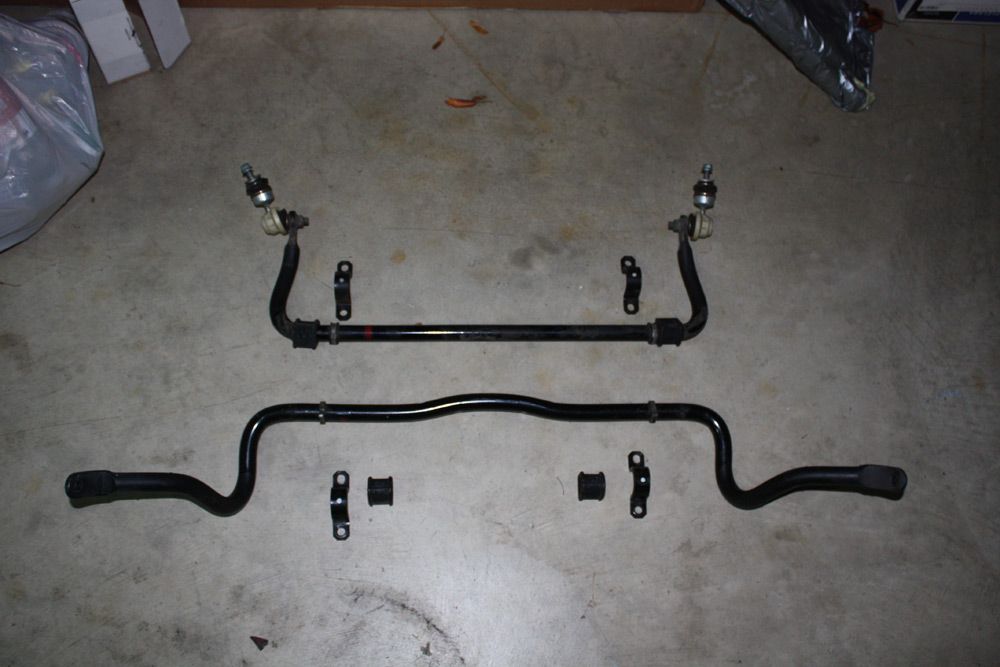 [SOLD]
Eibach Pro-Kit lowering springs. 1.2" drop. $150
installed:
[SOLD]
Speedline blue tinted wide angle heated mirrors. There is some minor spotting on the glass. From some angles you can't see it, but sometimes you can. Never bothered me too much, I suspect it would polish off. Tried to make it show in the pics the best I could. $40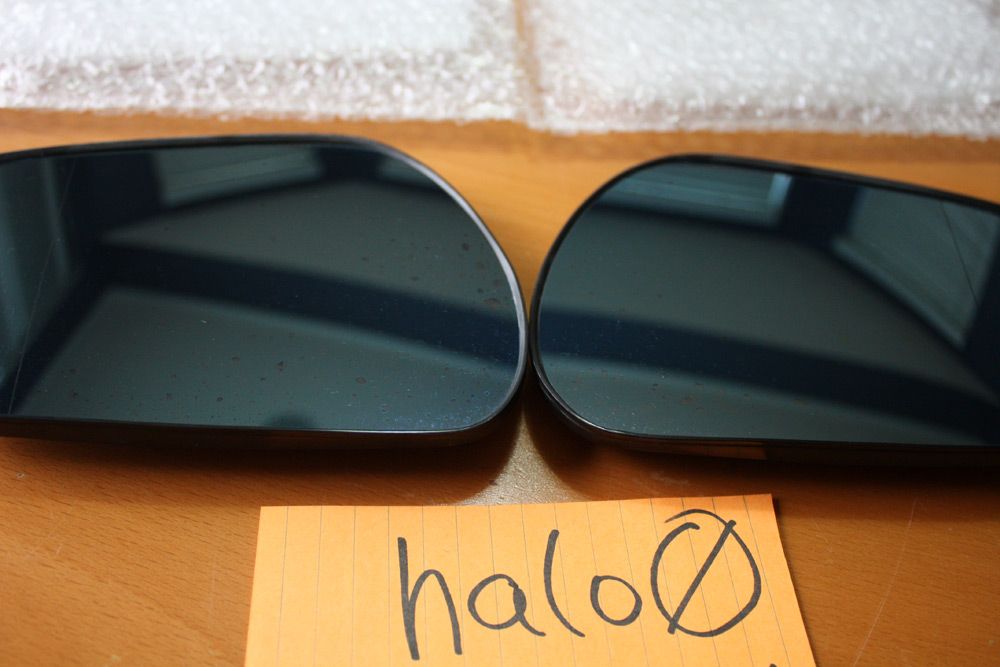 [SOLD]
Axela badge. Stripped to bare plastic and painted the right way so it will last. Color is gunmetal. $10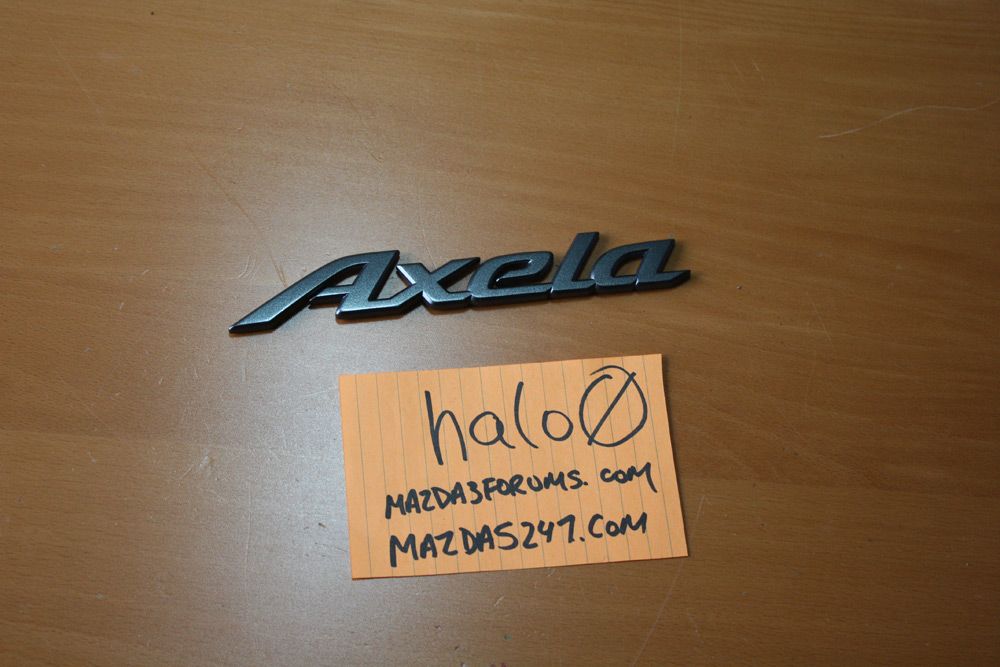 [SOLD]
OEM Mazda center caps. Mint aside from the fact that some tabs are missing from the emblems so they will need to be glued on. $8 ea or $15 for both
[SOLD]
Carbon Fiber rear diffuser. good shape but there is a small spot where the clear is bubbled(2nd pic). $125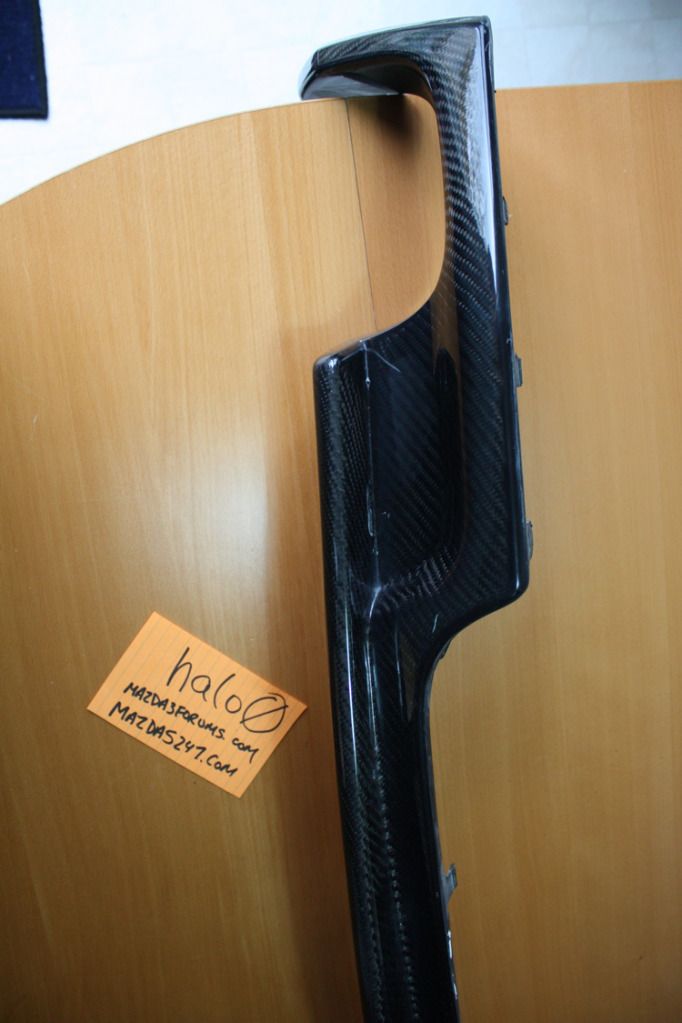 installed:
[SOLD]
Carbon Fiber mirror covers. These go on directly over your mirror with tape. $40
installed: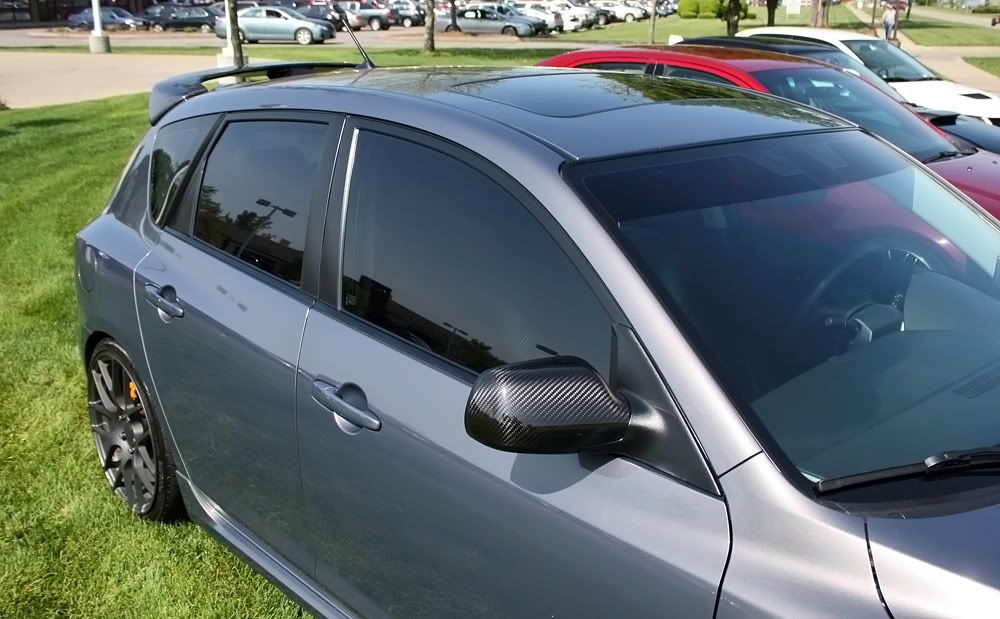 [SOLD]
Carbon Fiber Speed3 spoiler. Near mint, clear coat is perfect, no bubbling. $240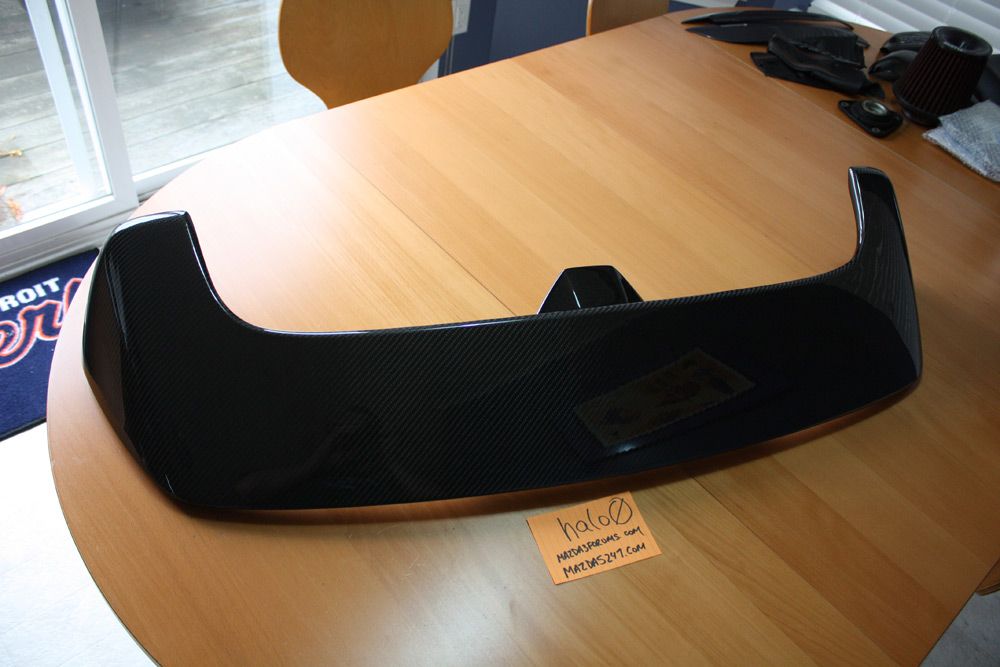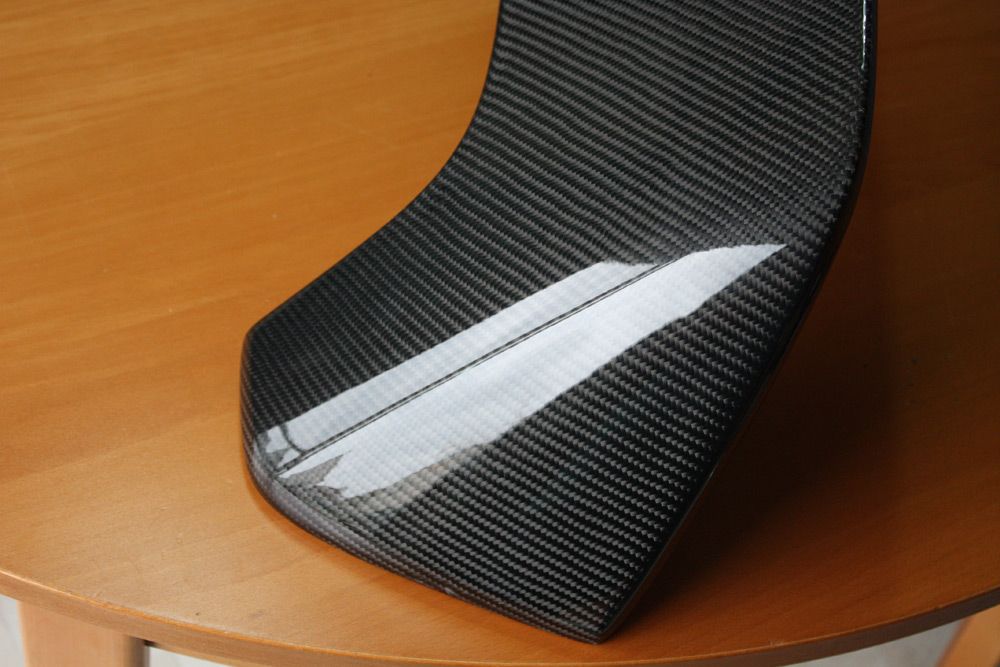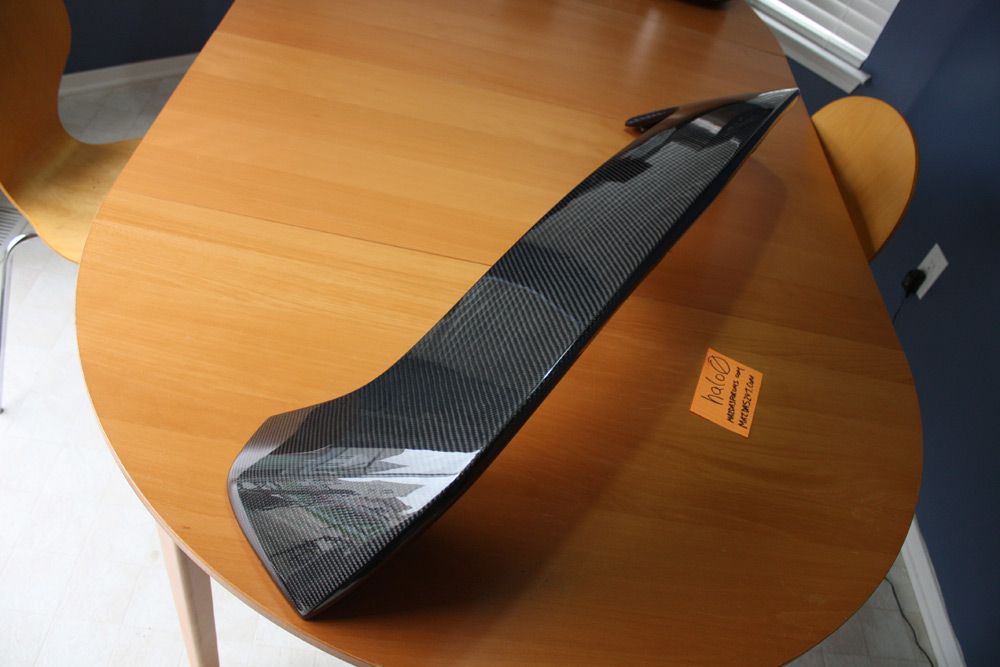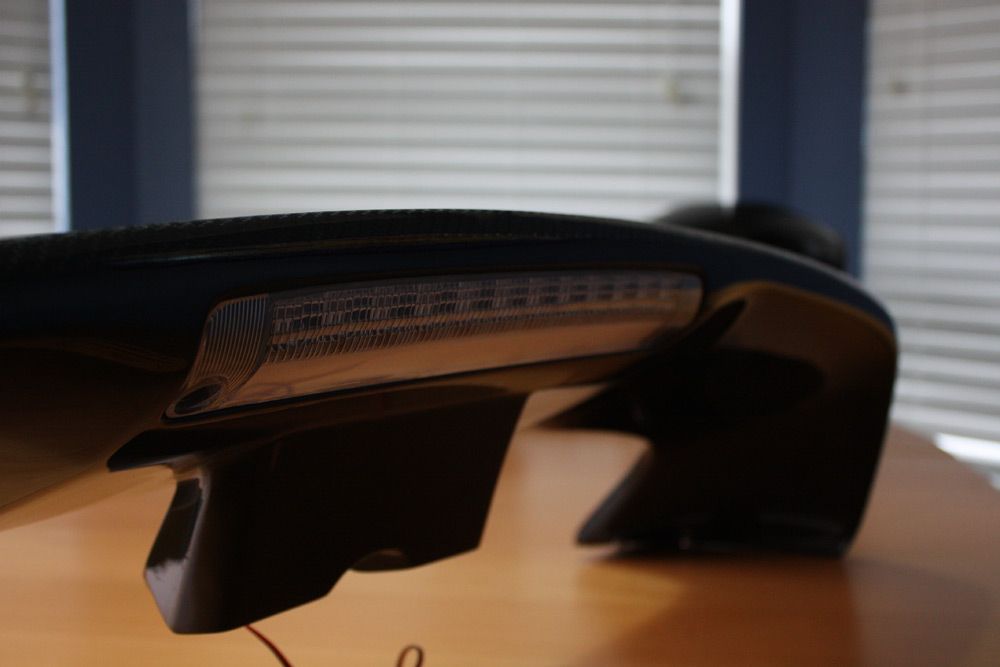 installed:
[SOLD]
Fujita F5 CAI. Comes with what you see. needs a vib mount, and a breather hose if you're into that sort of thing. $100
Again, all prices include free shipping, but local peeps get first priority! GET YO SHIT BEFORE IT'S GONE!!!
Lastly I have no idea why that piece of paper says mazdas247 because, fuck them.