Discussion Starter
·
#1
·
This is a Gauging Interest Thread for a Group Buy on the ExoticSpeed header
FOR THE 2.0L and the 2.3L now!
. I called them up and setup an account as well as discussed the product and after alot of talking, we are ready to have a GB to save you guys some money.
-100% Stainless Steel Construction
-4-2-1 Design
-2nd O2 sensor anti-fouler (to prevent check engine lights)
-Extra O2 Bung for aftermarket widebands (for tuning if you want to use it)
-2.5" Collector Pipe, perfect size for aftermarket cat-backs
-Bolt-in, no modifications, just like stock.
-Save weight compared to stock and Gain HP (most dynos on the forums gain 10-15whp)
-Replaces first cat!
-High Quality TIG Welded
Pic: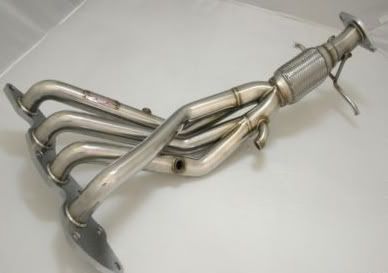 We are also giving a special offer on our M3M straight pipes when you buy a header! Replaces second cat, made for use with aftermarket cat-backs that clamp on the stock cat. Ie Borla, magnaflow, mazdaspeed, etc.
GI Pricing (ONLY HAVE 10 UNITS AT THIS PRICE!):
Header Only: $350 shipped in the USA (can ship to canada, will be small addition)
Header and Straight Pipe: $435 shipped in the USA (can ship to canada, will be small addition)
Looking to get 10 VERY INTERESTED people on the GI list. These units are in stock and ready to ship, so once we get people on the list that are SERIOUS, we can make this happen. A few back-up people would be good, in case a few back out. If we get another 10 interested, I can do round 2, but only 10 at a time right now.
Thanks!