Discussion Starter
·
#1
·
Ok I am starting a seperate thread for these.
I just heard back from the E-Bay seller, they are going to do the following:
$25.00 each sets ( $3.00 shipping) in usa = $28
$25.00 each sets ( 5.99 shipping ) in Canada = $30.99
$25.00 each sets (9.99 shipping) anywhere else = $35.99
They offered to ship them all to my address, but then I would have to charge shipping,so I think this is a better deal.
Estimated shipping time will be within 1 to 2 business days once payment is recieved.
We need a Minimal of 30 orders to get this price.
This is
40%
discount from their E-Bay auction.
It lists there for 29.99 and $11.99 shipping, which would be $41.98
If you look at there buy it now of $35.99 + shipping, you are getting about
48%
off.
Once we hit 30 orders payment will be arranged, so no money is needed at this time.
Make sure you have the push on style OEM knobs.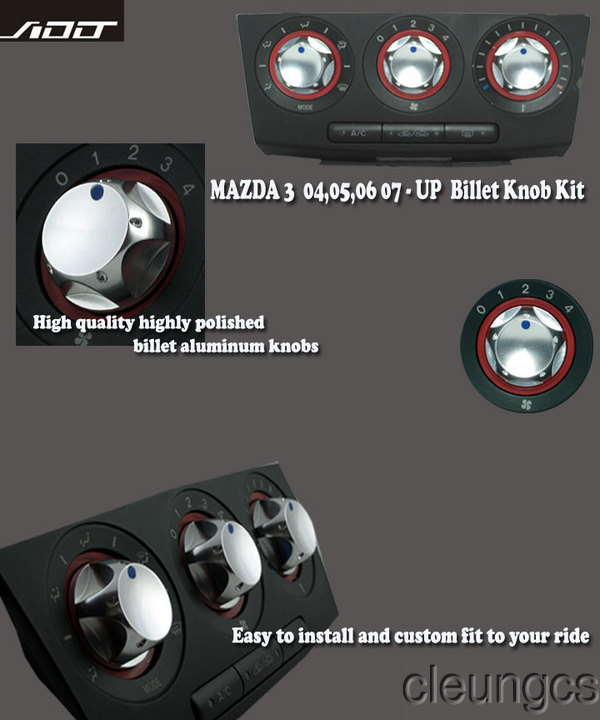 I am not making any money on this deal at all, just trying to get everyone a good price that always wanted a set of these but did not want to pay the E-Bay selling price.
1) TEKWATCH - 04 MAZDA 3
2) ClassicRocker3D - 08 Mazda 3
3) goggles1226 <--on the fence ( WOW that has to hurt )
4) bluehash
5) pdfoster - 05 Mazda 3
6) Kateleestar - 09 mazda 3 (if they fit!)
7) Mole's 3 - 04 mazda3
8) pointdablame
9) Mod_Master - 08.5 Mazda 3 GS (CANADA)
10) bbrianmo1 - 07 Mazda 3
11) WinningBlueMica`05
12) silentRAGE - 09 Hatch
13) mazda3ski - 04 mazda3
14) ziegs2020 06 mazda3 gs, (Canada)
15) mazdaman07 mazda3 gt 07 (canada)
16) goku 2004 mazda 3 GT ( Canada )
17)
18)
19)
20)
21)
22)
23)
24)
25)
26)
27)
28)
29)
30)