Discussion Starter
·
#1
·
GB # 6
Payment needs to be received by
Sat, Feb 24th
**Finaly, Have my hands on an 07 model, will be getting it to the shop to get the pattern made for the 07s!!**
These covers are not made of REAL leather, but a very nice and good quality faux leather material.Individual price is $345 each.
The price of $265 includes the following:
**Please note that the price has gone up due to Sales Tax that is being charged in Puerto Rico, that was not before**
Seat covers for both front seats( 2 peices for each seat) and rear seats (2 peices). 4 head rest covers, a Steering wheel cover, and Armrest/console cover.
Price includes – Stamping, embroidery, and colored stitching if you'd like.
Stitching can be done to match the color of your car.
Headrests can be either stamped or embroidered with the Mazda Logo:
Embroidered: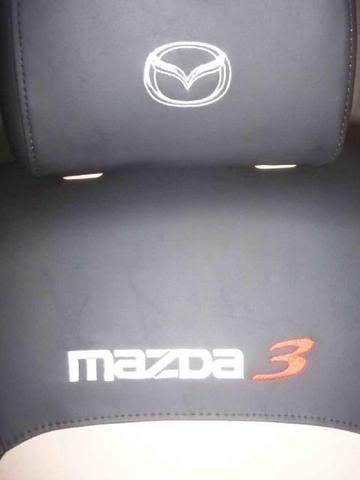 Stamped: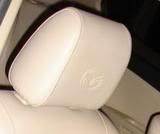 Also, the backs of the seats can either be embroidered
OR
stamped. Only one line of text.
The colors available:
They will use a leather look material for the outer areas, (to make it easier, black or tan depending on your interior)
This material comes in a leather grain or a perforated grain.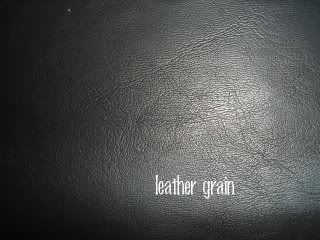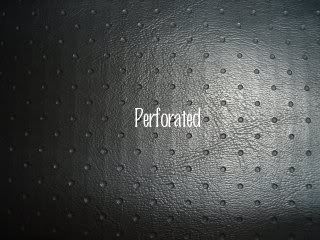 The inner section can be made of this "Carbon Fiber" look material or solid or perforated leather. Carbon Fiber comes in the following colors. (Pplease PM me for specific leather grain colors.)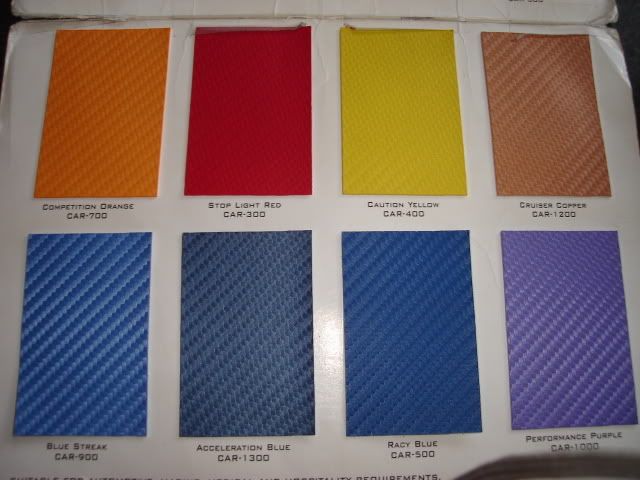 And extra yard of the inner material you have chosen for you set can be purchased for an extra $25.00 (many have purchased this to cover the doorpanel inserts)
There are 2 patterns that can be chosen:
You can have the inner piece stop at mid section: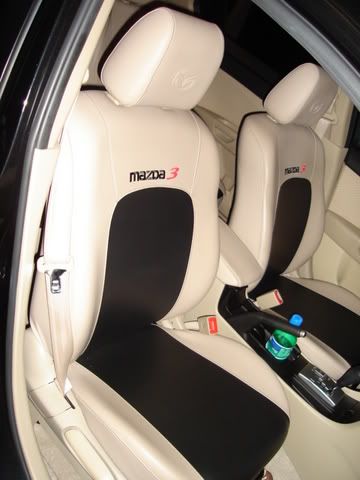 Or you can have the inner section/color go all the way up to the top of the seat: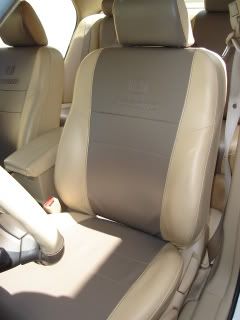 These covers slip on over your original seats.
They are fastened with a very strong Velcro along the bottom back edges and are tied underneath with some strong ties that are sewn into the covers. The Rear ones, slide down the back and the seat cushions are put on by pulling out your seat and sliding them on.
Some slight slits need to be cut in areas where there are plastic pieces, in order to tuck the material underneath for a good fit (Pics will be posted in the how to section of the install)
If you have SAB they are still able to be put on. The sides of the covers will be fastened with Velcro in the event that the airbags need to deploy then they
should
open up.
There is NO guarantee on the SAB. Just like anything else that you would put over the airbag, there is a possiblilty that it will affect the way it deploys. Its up to you.
Once the orders have been turned into the shop, it will take aproximately 3-4 week for them to be made. The factory where they are made at will give priority to our sets and will only work on ours until all are completed.
Shipping:
The boxes weigh between 12-15lbs. I personaly mail them out via US Postal Service Priority mail.
Cost of shipping to the US is $25.00 USD
Cost of shipping to Canada is $30.00 USD
I am accepting PayPal for payment. My paypal address is
[email protected]
Please include the 3% Paypal fee (US) and 4% for Canada to total amount of $ sent.
Example:
US order ~
1 set $265.00
xtra material $25.00 (optional)
shipping $25.00
total = $315 + 3% = Total amount sent will = $324.45
Canada ~
1 set $265.00
Shipping $30.00
total = $295.00 + 4% = Total amount sent will = $306.80
After the group buy closes and payment is received, it will take about 3-4 weeks to get them made, and I will personaly be mailing then out to all of you.
When making payment, please make sure you include your Forum name and make sure your mailing address is correct. If you have an alternate address you want it sent to please let me know.
Gracias ~~ Angela
Gallery of other Forum member's custom made sets:
http://www.mazda3forums.com/index.php?topic=54720.0
# of people in:
Pending...
NJmaz3
~PAID~
Mazda3Pride
~PAID~
Solace
midnightfxgt
sevin7
~PAID~
reeky2001