Discussion Starter
•
#1
•
I need to sell my Fiance's AVICF900BT. It is about 9mo old now. Everything works great on it. There is the remainder of the 4 year Service Plan from BBY. She wants to try something new.
I also have the PESWI-AKJC for steering wheel retention, Also the 2 pieces for Sirius SAT (SCC! and CD-SB10). I would like to sell as a whole package. It is in her 2006 Mountaineer. Same dash kit and wire harness as our cars so it is a plug and play install. The F900 is updated to the 2.0 Firmware and i am updating it to the 2.006 tonight. I have all original packaging for the AVICF900BT (including owner manual CD), and SCC1. I also have the CD-IU230V Ipod Video interface. The unit also has the MSN direct tuner built in all you have to do is pay for the service. It is pretty helpful with gas prices and movie times.
The unit is bypassed so video can be watched while driving. The bypass also makes it so you have full control over the Bluetooth and GPS while driving. The AvicF900BT plays DVD's where the AvicF700BT does not. There are alot of mods people are doing to these units. Mine is not modded (software) only the brake bypass.
The AvicF900BT has a 1/8" A/V (YES video and audio ((has 3 bands)), and a SC card reader for pics or video)
Here is a link to Pioneers site for more info about the AvicF900BT
http://www.pioneerelectronics.com/PUSA/Products/CarAudioVideo/2-DIN/AVIC-F900BT
Here is the info on the CD-SB10
http://www.pioneerelectronics.com/PUSA/Products/CarAudioVideo/Accessories/DigitalRadio/Satellite/CD-SB10
Here is the info for the CD-IU230v
http://www.pioneerelectronics.com/PUSA/Products/Portable+Audio/Ipod+Accessories/CD-IU230V
Here are some pics of the screen and the boxes and what not.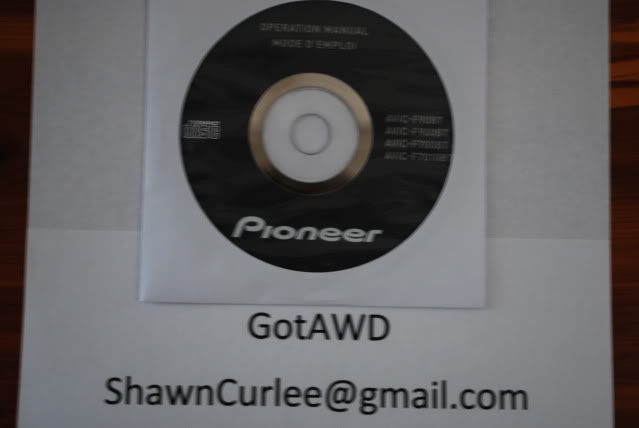 AvicF900BT - $1200 MSRP
CDIU230V - $50.00 MSRP
CD-SB10 - $70 MSRP
SCC1 - $84.99
SWI-AKJC - $85.95
Dash kit, harness and ant adapter - $50.00
You can check my feedback i am a straight forward seller. This unit is ready for install. I can provide complete instructions if needed for install if needed. I am asking $900 shipped with the remainder of the BBY 4 year Service Plan (about 3.3 years left) and all the install parts ready to go.
i prefer paypal but am flexible on payment.
Shipped via FedEx continental US included.
can ship the same day i recieve payment.