Discussion Starter
·
#1
·
Hey guys. Is there a thread that lists the different eyelid options for the 5 door mazda3? I found two styles that I like so far.
I like these because it looks different with the piece that wraps around the side of the light. I guess they are the speedline eyelids.
http://cgi.ebay.com/ebaymotors/M39-03-Mazda3-HB-5D-Front-Light-Eyelid-Mazda-3-Eyeline_W0QQcmdZViewItemQQ_trkparmsZ72Q3a570Q7c66Q3a2Q7c65Q3a12Q7c39Q3a1Q7c240Q3a1318Q7c301Q3a0Q7c293Q3a2Q7c294Q3a50QQ_trksidZp3286Q2ec0Q2em14QQhashZitem350078787295QQitemZ350078787295QQptZMotorsQ5fCarQ5fTruckQ5fPartsQ5fAccessories
I also heard good things about these. They are the partplaza eyelids. I like those because they have a more aggressive look to them.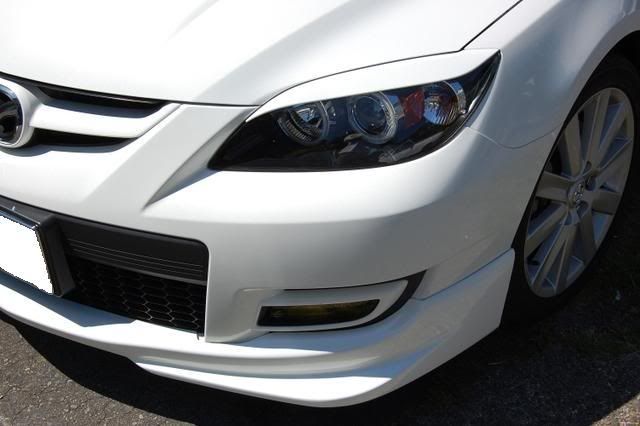 http://cgi.ebay.com/ebaymotors/_Car-Truck-Parts-Accessories__MAZDA3-HATCHBACK-EYELIDS-EYEBROWS-MAZDA-HEADLIGHT-BROWS_W0QQitemZ300298397345QQadiZ2865QQadnZCarQ20Q26Q20TruckQ20PartsQ20Q26Q20AccessoriesQQcmdZViewItemQQptZMotors_Car_Truck_Parts_Accessories?hash=item300298397345&_trksid=p4506.c0.m245&_trkparms=72%3A1171
|65%3A12|39%3A1|240%3A1318
Are there others? Also, does anyone have better pictures of either of them?
I also noticed that they look different on Mazdaspeed and regular mazda3's because of the way that the hoods/grill is on them. The Mazdaspeed eyelids look a little out of place because the eyelid starts below the hood line.
Thanks for the help.