Discussion Starter
·
#1
·
THE CAR

2008.5 Mazda 3 Sport 5 door MTX
Stormy Blue Mica with Sand cloth interior

THE MODS (in order of install)

Razo Stainless Steel Pedals + Deadpedal
PartPlaza SS Door Sills
Simota CF SRI
35% Tint
6000k lows and Fogs
* 5000k DDM Tuning Raptor HID Kits [8-14-09]
JDM Visors
DaBears2k LED interior kit
Vibrant STB
PartsPlaza Eyelids
TWM Type R Knob, Gunmetal Finish
TWM STS
Magnaflow CBE
Ally Lip, Painted
Southernsurfer Blackout Overlays
Removed Door Moldings
RX-8 Rims, Painted Graphite with Hankook Ventus HR II 225/40/18


Rally Armor

UR Mudflaps
MS3 Rear Valence
FlexInnovations Grounding Kit
Hardwired Valentine 1
MAZDASPEED3 Springs F+R
Pilot Red LED Turn Signal Bulbs
*V-LEDs Resistors [8-14-09]
Independent Fog Mod
Hotchkis F+R Sway Bars [7-31-09]
StreetUnit Rear Motor Mount [7-31-09]
Rear Wiper Delete [8-6-09]
Buddy Club Condenser [8-14-09]
Suntek Flipkey [8-14-09]
HKS Twin Power DLI II Ignition Box [8-19-09]
Custom Painted Badges [Front: notquite Stormy Blue; Rear: Graphite] [8-26-09]
G2 Caliper Paint in Gold, with Blue "AXELA" decal [9-2-09]
Cp-e Rear Motor Mount (60 Duro) [10-23-09]
Fujita F5 CAI [4-4-10]
Road Magnet 1.25" Lowering Springs [4-29-10]
Koni Yellows [4-29-10]

TO BE INSTALLED

(god knows when)



Hella Horns

FUTURE PLANS (if I ever get around to it)

Secret Headlight Mod
Tinted Taillights
Vinyl Roof - Gunmetal [?]
Powdercoat Wheels Gunmetal
Post-Warranty: Header + High Flow Cat

On to some Pics:
This is probably my favorite shot of my car, Taken by forum member Kenshin. Unlike me, he has a real camera.
A Bunch of the Locals, Can you pick out the one who doesn't belong?:
(L-R: shadowweighs1ton, Aeffles, myself, Kenshin, Sean's Magnum)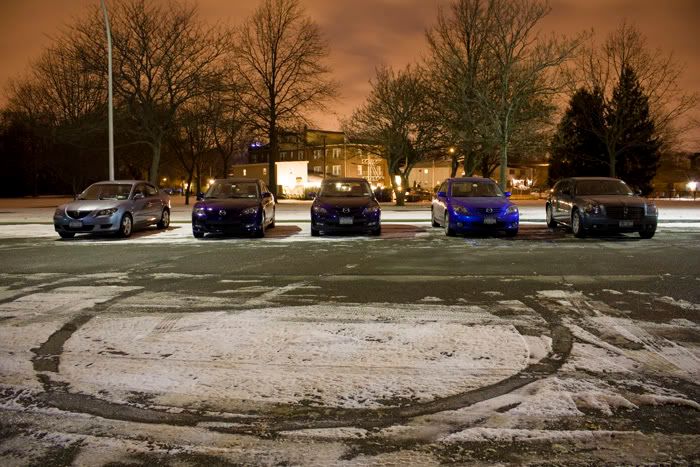 Another one courtesy of Kenshin:
(this was taken right after I installed the JDM visors)
A shot from this past weekend with Aeffles' Sedan getting in the picture
Pictar Links: Some are Photoshoots, some are just pictures of the mods themselves.
4-29-09 Graziella In the Park
5-3-09 Rainy Post-OCC Photoshoot
5-3-09 OCC Pics
6-11-09 Red Turn Signals
6-29-09 Indy Fogs
6-24-09 RJR Car Show at OCC Morning Photos
7-31-09 Sways + Motor Mount
8-10-09 Rear wiper Delete
8-14-09 Buddy Club Condenser (no charge for the filthy engine bay), Flipkey, 5000K HIDs
9-2-09 Badges + Calipers
​
4-4-10 Fujita F5