Discussion Starter
·
#1
·

I decided to begin this thread as from the many posts I've read there seems to be a lot of confusion surrounding auxiliary lighting, what it's proper uses are and how to mount and wire them.
I used to club race (street rally and autoX) two different cars back in the '80's, and got very interested in auxiliary lighting. I had done a lot of research and managed to install a few sets as well. My Volvo sedan ended up with three sets of additional lights, two sets of fogs (yellow and white,) and a set of passing lights, all relayed, switched, wired and mounted correctly for their intended use, and (questionably) legal. Two sets of fogs were S.I. questionable, as were my H4 E spec headlights that were certainly not legal in the US (I had to change them back to sealed beams before every inspection,) but I managed to get throught Pa. State inspection for several years w/o too much incident. As it turns out, most inspectors didn't know what to do with these extra lights either, but since they'd only come on w/low beams and both sets were switched independantly they'd pass it.
I hope you all can benefit from my past experiences, and I will try to add more pictures and information as I get it/them.

Please feel free to add any updates, ask questions or make any comments you wish.

Fog/Cornering lights: Usually mounted low for best results and connected to the low beams only. Deeply fluted lens, and/or reflector for a wide flat (and short) beam. Often yellow in color to help the driver distinguish the differences in objects better, and to help eliminate the glare and reflection associated w/foggy conditions. Fog lights always have a bulb diffuser to reflect the complete light output back into the reflector. These are factory installed on many modern cars/trucks, as it is w/the P5, 3's, 6's, etc...
When used as a cornering lamp, they may be clear/white in color and/or mounted up higher.
e.g. I used a set of white fogs, mounted on top of the bumper, as cornering lights, and a set of yellow fogs underneath for poor conditions when I used to run street rally's w/my Volvo sedan.

Driving lights: Mounted @ the same level and as close to the high beams whenever space allows. Used in conjunction with the high beams, they're nearly always clear/white in color (some pro-racing series use yellow DL's to distiguish different classes running in the same race at the same time,) w/a lightly, or multi-fluted lens or reflector. These will throw a long beam that is more focused (narrower) than std high beams, but more diffused than pencil/spot beams.

Combination beams: When mounting space is limited. W/dual lenses and often (but not always) dual bulbs these carry both a fog lens for a wide pattern and a driving lens for a more direct, focused pattern. The fog portion of the lens may be yellow or white. Mounting should be between low and high (usually just below the bumper) as these lights are a hybrid/compromise, and in my opinion should be avoided, especially if sharing a bulb for both functions.

Passing lights: These throw a narrower, longer beam than driving lights, but not as narrow as a pencil/spot beam. Their lenses (or reflectors) are "pixeled" and are always clear/white. They almost always carry a bulb diffuser to reflect light output back into the reflector. These should be mounted and connected as driving lights would be, high beams only.
e.g. I had a set on two different cars I owned and LOVED them, but they are hard to find in this country. From my experience, they fill in that "hole" caused by std high beams that reflect light from the sides but "seem" to dissappear on blacktop. The effect of passing lights from the drivers seat is one of a completely lighted oval pattern. As I'd said, I loved mine a lot.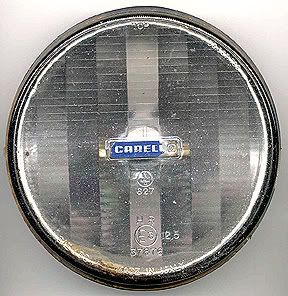 [size=11pt]A well used Passing Light Lens complete w/stone chips.
Note the wide vertical fluting and horizontal pixeling.
​
[size=11pt]Pencil/spot beam: Always a clear/white lens, non-fluted or pixeled, and mounted wherever additional light is needed, but usually as high as possible. These light don't often have a bulb diffuser as light is directed straight out as well as allowed to reflect back naturally. These throw a very long, narrow, glaring pattern, as the name implies, and should only be used w/high beam headlights, or as utility/off-road lights. They are usually not legal and are to be kept off and covered when driving on public roads.

Also, remember that any light will make the most of it's available output if mounted in a round (parabolic) reflector/round lens, and in this case bigger is better. Because of their pattern this is not too much of a problem for most fog lights, but it is one reason I am not a fan of the new '07 Mazda fogs or the rectangualr headlights so popular in the '80's/'90's.
I hope this helps you decide your accessory lighting needs, how and where to mount them and how to use them.
Remember, it is your duty to use them responsibly on public roads and where other traffic exists.