Discussion Starter
·
#1
·
I'm thinking of getting the oem 3i fog kit and put in HID bulbs since I have a spare ballast. So I was wondering around on Internet checking out bulbs, and I found two types of H11 HID bulbs.
The halogen H11 bulb looks like this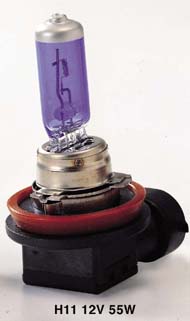 This is one type of H11 HID that I found
Here's another H11 HID which looks more like the halogen one
One is straight and one is bent at the end...
So I guess my question is that does it matter which one it is?
By the way, I have bought any kit yet, where will be my best bet to find a set. I also noticed that most people bought theirs off ebay and they have the plastic covers. However, I did found a set in UK that has the glass covers except that it's almost $120 shipped. Does it matter if I have the plastic or the glass one? I just don't want them to crack if hit by a stone chip.
Thanks guys.