Discussion Starter
·
#1
·
UNITE - Akron, OH - 3.14.09 - 100% SECURE VIRGIN VENUE!!!
$10 entry before 10pm / $15 after – Arrive early! Don't miss the opening live acts starting promptly at 9pm!
$5 ENTRY ALL NIGHT WITH OAC LAMINATE (PREMIUM WEBSITE MEMBERSHIP)
www.oacmazdaclub.com
CAR MEET IN THE PARKING LOT - SHOW AND SHINE - 8PM
RSVP BY REPLYING WITH YOUR NAME + HOW MANY GUESTS - THE PARKING LOT HAS LIMITED SPACE!
OAC Attendees:
1) OhioAxelaClub
2)
3)
4)
5)
6)
7)
8)
9)
10)
This venue holds 750 people and is guaranteed to sell out!
Massive 50,000 Watt Earthquake Sound System + Laser Light Show + Visual Screens!
Vending area with snacks, water, energy drinks and smart bar all night!
THIS EVENT IS ALL AGES! - Full night of entertainment - 9pm to 6am!
Call the Info the day of the show for directions - 800-201-3963!
Official hotel information - Comfort Inn - 2873 S. Arlington Rd. Akron, OH 44312 - 330.645.1100
Online Info: http://www.myspace.com/nocturnalunion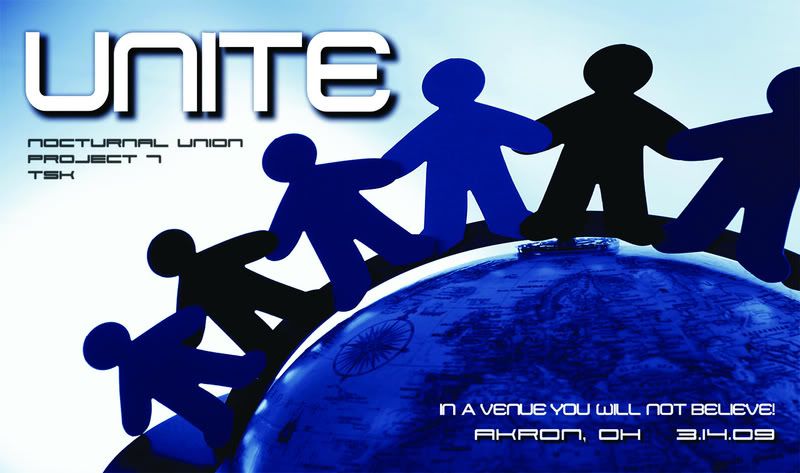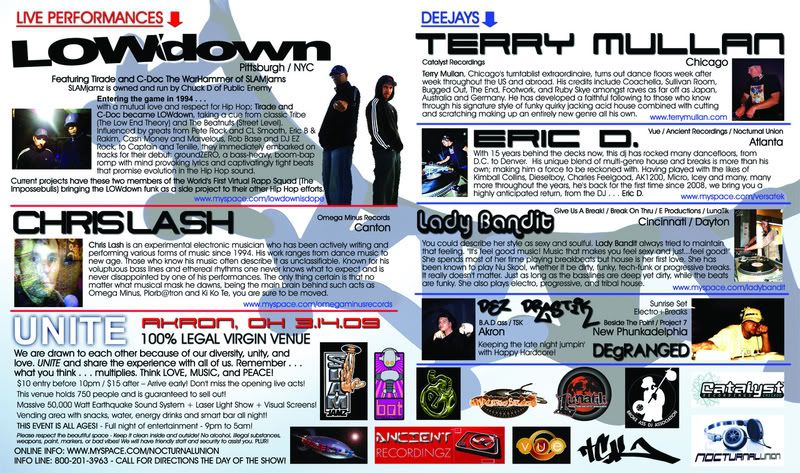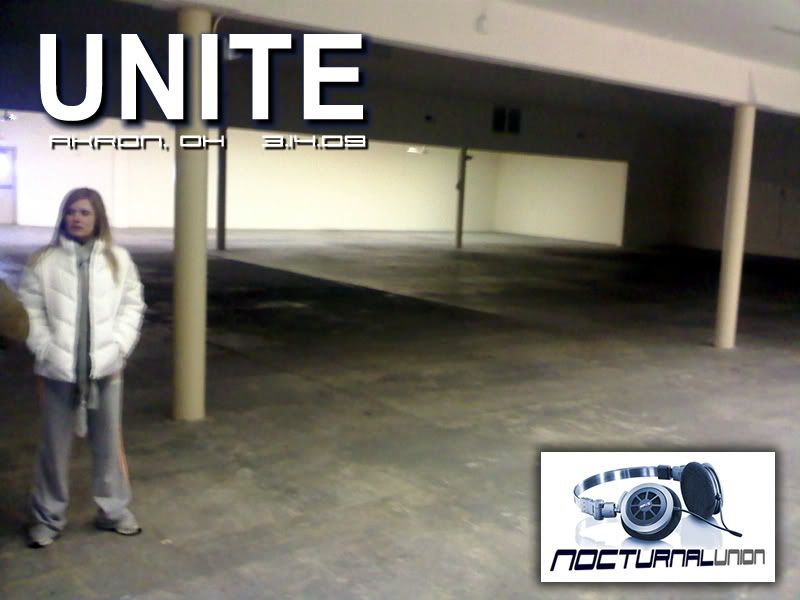 We are drawn to each other because of our diversity, unity, and love. UNITE and share the experience with us. Come out and make a new friend, forget your troubles, and be yourself.
Remember . . . what you think . . . multiplies. Think LOVE, MUSIC, and PEACE!
UNITE is the first of a series of monthly events that will showcase the finest talent in the area. The goal of Nocturnal Union is to grow the local electronic scene in a positive way, different than any event staged so far, by hosting creative, themed events.
What is a RAVE? A rave party is a term that describes an all night dance party with fast-paced electronic music and light shows. At these parties you can expect to see DJ's, live performers, and other acts playing all forms of electronic music including hip hop, trance, house, techno, and drum and bass with the accompaniment of laser light shows, projected images, and lots of fog.
In the early 1990's, ravers often followed simple principles such as peace, love, unity, and respect otherwise known as PLUR. There was once a time when you could attend a party and everyone was thought of as a friend. A rave party was a way to escape from the problems of everyday life and join other people with similar interests in music, dance, art, and camaraderie. PLUR may be interpreted as the way that a raver believes he or she should live his or her life, and how people are expected to behave at a rave.
The definition describing PLUR is:
Peace
- Hostility typically serves no purpose other than to defend an ego that is lacking inner peace. To make peace with all people around you.
Love
- Acts and feelings of goodwill towards all others are a moral imperative with their own rewards. To stay close to all people and care for them unconditionally.
Unity
- This can mean either that: We are all united in the human condition, or as social beings, the feeling of connectedness with others is the ultimate end to our efforts.To stand together for the universal cause of peace and love.
Respect
- A person must show regard for the feelings of others through their actions and inaction alike. And one must have respect for oneself. To understand the diversities of culture.
While raves are nothing new to us, our goal is to bring back what we lost, create something new, and keep it exciting. We invite you to UNITE with us; bring your dancing shoes, a toy or piece of candy to give to someone, a smiling face, a glow stick or two, and LIVE for one night you will never forget!
Master of Ceremonies (MC): Infinity
The use of the term MC when referring to a rhymer originates from the dance halls of Jamaica. At each event, there would be an announcer or Master of Ceremonies who would introduce the different musical acts and would say a toast in style of a rhyme, directed at the audience and to the performers.
We Are Proud To Bring You Our Master of Ceremonies: MC Infinity
Mc Infinity The New Ascension/B.A.D. Ass./TSK/M.I.A./Fader Freaks Jay "MC Infinity" has been on the mic since he could talk. Raised in church, Infinity comes from three generations of preachers, and to emcee is practically in his genes. Infinity showed interest in rapping at an early age and began rapping locally in hip hop groups at the age of 13. Through high school he honed his performance skills on stage and after graduation began getting a reputation as a "freestyle " artist. A true hip hop listener Jay was introduced to Drum N Bass and electronic music scene around 1995. He loved the sound of Jungle /DnB , and was inspired. Infinity performed his first professional sets by late "97" and by 2000 was (and still is) the marquee emcee for the state of Ohio. Over the last year Infinty has been branching out to major cities all over, New York, Baltimore, Indianapolis, Pittsburgh, Chicago and is often booked all over his home state of Ohio. MC Infinity's voice is the perfect match for the beats and bass and his timing is uncanny. Infinity is uncompromisingly Hip Hop and his free flows are fresh, raw and cover many different styles of emceeing. Whether he is rapping, chanting, singing or introducing your favorite DJ, MC Infinity is sure to add unmatched electricity to any event!
LIVE PERFORMANCES BY:
LOWdown – Pittsburgh / NYC - Featuring Tirade and C-Doc The WarHammer of SLAMjams - SLAMjamz is owned and run by Chuck D of Public Enemy.
Entering the game in 1994 with a mutual love and respect for Hip Hop; Tirade and C-Doc became LOWdown, taking a cue from classic Tribe (The Low End Theory) and The Beatnuts (Street Level). Influenced by greats from Pete Rock and CL Smooth, Eric B & Rakim, Cash Money and Marvelous, Rob Base and DJ EZ Rock, to Captain and Tenille, they immediately embarked on tracks for their debut: groundZERO, a bass-heavy, boom-bap romp with mind provoking lyrics and captivatingly tight beats that promise evolution in the Hip Hop sound.
Current projects have these two members of the World's First Virtual Rapp Squad (The Impossebulls) bringing the LOWdown funk as a side project to their otherHip Hop efforts into the new era of music.
www.myspace.com/lowdownisdope
http://www.youtube.com/watch?v=ZsNWCAVPLNU
http://www.youtube.com/watch?v=xssl13E9hCs
http://www.youtube.com/watch?v=FFrlDa1a0Ao
http://www.youtube.com/watch?v=rLhS7GvaKCQ
CHRIS LASH – Omega Minus Records - Canton
Chris Lash is an experimental electronic musician who has been actively writing and performing various forms of music since 1994. His work ranges from dance music to new age. Those who know his music often describe it as unclassifiable. Known for his voluptuous bass lines and ethereal rhythms one never knows what to expect and is never disappointed by one of his performances. The only thing certain is that no matter what musical mask he dawns, being the main brain behind such acts as Omega Minus,
[email protected]
and Ki Ko Te, you are sure to be moved.
www.myspace.com/omegaminusrecords
WITH DEEJAYS:
TERRY MULLAN- Catalyst Recordings - Chicago

Terry Mullan, Chicago's turntablist extraordinaire, turns out dance floors week after week throughout the US and abroad. His credits include Coachella, Sullivan Room, Bugged Out, The End, Footwork, and Ruby Skye amongst raves as far off as Japan, Australia and Germany. He has developed a faithful following to those who know through his signature style of funky quirky jacking acid house combined with cutting and scratching making up an entirely new genre all his own.
The eighties posed as the formative years of Terry's career. Although his roots began in hip-hop, he found himself smack in the middle of the Chicago house explosion. House and Disco were styles of music that were entirely new to Terry, but the match was struck. Soon after gaining inspiration from Chicago air personalities like Farley "Jackmaster" Funk, Fast Eddie, Armando, & Mike "Hitman" Wilson via 102.7 WBMX, Terry made house his home. Next, when acid house hit the US, the link was completed; Terry found the sound he was looking for. It was that added flavor he was waiting for, something new, twisted and forward. Now all the elements were coming together. And with the addition of the Detroit sound, this was it, three different languages, disco, house and techno. They could all translate the same message together or apart from one another.With his fluent style, these languages reflect his DJ'ing as well as the tracks he's now composing, which is his way of furthering the evolution of dance music.
For the future, Terry is going beyond just knowing his machines. This sound is put to the test on his releases on Robsoul, Definitive, Control, Funk'd, Chicago Housing Commission, Aciiieeed, and on his own imprint, Catalyst recordings. Through his label he has released projects for the likes of DJ Sneak, Ian Pooley, Halo Varga, Mazi, Angel Alanis & TJR, as well as for himself under the monikers, Acid OG's, Speakerphreaker, Tone Broke, and as Serotonin project on Richie Hawtin and John Acquaviva's former imprint Definitive which featured Terry's track "Sidewinder" on the Chemical Brothers "Brother's Gonna' Work It Out" mix cd. Additionally, Terry gained notoriety for his records under the alias Speakerphreaker which includes the largely successful "Products Of Our Environment" EP on Catalyst which was featured on Pete Tong's essential selection on BBC radio 1 in the UK & "La Nina/Nickel Bag Da Funk" EP on Smile which was licensed to several top DJ mix compilations.
Terry's DJ'ing, label and tracks have earned him a reputation that extends worldwide. Never one to follow the masses, he borrowed from each genre to create what we all know to be Terry's sound, putting a bad ass twist on an otherwise conservative house scene.
www.terrymullan.com
http://www.youtube.com/watch?v=nyFVUAMt6co
http://www.youtube.com/watch?v=Bc8I6YFbH24
http://www.youtube.com/watch?v=CxfOWCT2EPk
ERIC D. - Vue / Ancient Recordings / Nocturnal Union - Atlanta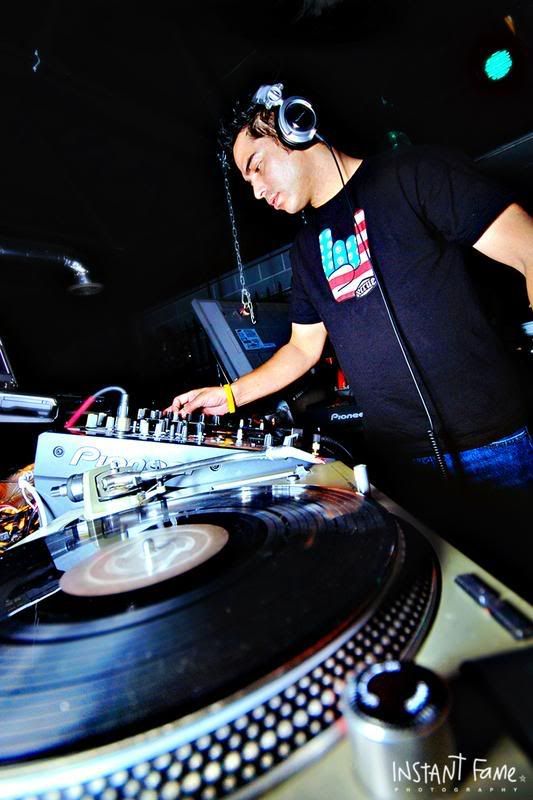 With 15 years behind the decks now, this dj has rocked many dancefloors, from D.C. to Denver. His unique blend of multi-genre house and breaks is more than his own; making him a force to be reckoned with. Having played with the likes of Kimball Collins, Dieselboy, Charles Feelgood, AK1200, Micro, Icey and many, many more throughout the years, he's back for the first time since 2008, we bring you a highly anticipated return, from the DJ Eric D.
http://www.myspace.com/versatek
http://www.youtube.com/watch?v=5f4tyEstfKA
LADY BANDIT - Give Us A Break! / Break On Thru / E Productions / LunaTik – Cincinnati / Dayton
You could describe her style as sexy and soulful. Lady Bandit always tried to maintain that feeling. "It's feel good music! Music that makes you feel sexy and just...feel good!" She spends most of her time playing breakbeats but house is her first love. She has been known to play Nu Skool, whether it be dirty, funky, tech-funk or progressive breaks. It really doesn't matter. Just as long as the basslines are deep yet dirty, while the beats are funky. She also plays electro, progressive, and tribal house.
http://www.myspace.com/ladybandit
http://www.youtube.com/watch?v=kMS7C5T1vCY
http://www.youtube.com/watch?v=sHMbjqxYUIU
DEZ DRASTIK – B.A.D. Ass / TSK – Akron
Keeping the late night jumpin' with Happy Hardcore!
DJ DEgRANGED - Beside The Point / Project 7 – New Phunkadelphia
Sunrise Set - Electro + Breaks