Grand Am Series
Join Date: Apr 2008
Location: Chicago, IL
Posts: 385
2008 Mazdaspeed 3 GT 20K odo Fully Modded 300+whp/tq 20k obo
---
I'm selling my modified 2008.5 CWP Mazdaspeed3 GT. The car was purchased from the Autobarn in Evenston back in June, 2008. The car still has the full factory warranty till June, 2011 and/or 30K miles- whichever comes first. This isn't a part-out nor am I willing to part-it-out I want to sell it the way it is. All the work/maintenance (oil changes- every 3-4 miles-, catch-can changes, washes, etc) have been done by me. It also has a 5 year new seat warranty--you'll get the seats dealer replaced for whatever the damage reason may be.
The reason I'm selling is because I have a family now and the new condo we're moving to doesn't have a garage and I we could definitely use the money I would get from this car. If you have any questions please email me or give me a call. All details will be listed below. Please serious potential buyers only. I am willing to meet up and give test drive/full mechanical inspections.
Please email me with for a full viewing/inspection and test drive. I'm located in Villa Park, IL zipcode 60181. I am also willing to drive out 25-50 miles if you aren't able to make it.
Please serious buyers only.
SPECS:
YEAR: 2008.5 CWP GT
CURRENT MILAGE: 20K (this is true, I drove the car on a part time/weekends only since I have owned it)
WARRANTY: Yes
MAINTENANCE/OIL: changed factory oil out at 600 miles to Royal Purple full synthetic; last oil change was at 17K miles to Valvoline full synthetic and will be changing the oil sometime next week.
*Brake/clutch fluid was also changed out with Valvoline
MODIFICATIONS- PERFORMANCE/ELECTRONICS:
*Cobb ACCESS PORT (comes tuned with custom map- tuned by Jorge @ PNL I have the tune print out)
* MSD Dashhawk- allows you to monitor the engines parameter straight of off the ecu's obd2 connector.
* Cobb- turbo inlet hose
* Cobb short shifter plate
*Defi Blue Racer 52mm boost, oil/pressure & oil/water temperature gauges with CPE 3 gauge pod (setup on car: boost, oil pressure & oil temp)
* BC Racing adjustable coilovers- ride & height for front & rear (6k on them, installed at 14k miles)
* ACT Performance street disk clutch w/ throw-out bearing (installed at 14K miles)
* SU dual port blow off valve
* Denso Iridium Spark Plugs
* ProSport oil filter adapter plate w/ spin on oil filter conversion kit
* Perrin performance oil catch can
* SU dual port blow off valve
* CP-E full cat-back exhaust with catless downpipe- does NOT and never has throw an engine code.
* CP-E CAI
* HKS Twin power ignition amplifier
* Buddy Club Condenser Grounding Kit- with additional full engine bay grounds
* DNP stainless steel manifold (headers)
* Street Unit passenger side and rear engine mounts
* TRZ driver's side (transmission) mount
* TurboXS FMIC
* Greddy Turbo Timer
* WOT BOX- 2-step/ flat foot shifting (wide-open-throttle)
* AEM meth kit (controller mounted & wiring run through the firewall- container and pump not installed- also comes with 4 gallons of SNOW'S boost juice purchased at SU) Never installed because it would require a new tune and didn't/don't have the money for that.
* TWM PERFORMANCE- Short shifter with aluminum bushings
* custom select hoses
* Balance shaft delete
EXTERIOR:
* Full 20% tints w/ straight 6" strip in front- installed by Nino @ Umbra.
* smoked out headlight rings on the inside
* 10K bulbs
* Eye Lids
* Smoked out emblems with flying 'M' in rear
* Carpeted spare wheel-well area
* NexMod carbon fiber rear wing lip and front lip (painted black)
*Rally Armor mud flaps (w/ blue logo)
* Smoked out side markers and rear taillights
* Painted white rims with blue lug nuts.
The only cons on this car are the passengers side quarter has been scratched last year the area was re-sanded/primped to prevent rust. I never bothered having it re-painted due to the cost- even though I know a shop that will do it for around 200. It really isn't that big of an eye sore. Lastly, the bottom of the oil pan has a re-welded aluminum square plate in the center (done by PNL) when I hit some crap on the highway. I will remove the back window stickers per request and the ones on the side windows. Also I'm still on oem factory tires which don't have that much thread life left.
PLease don't email me with low blow offers, trades or anything else besides what I'm asking. Serious buyers only.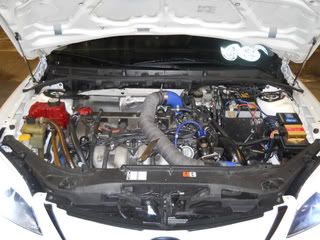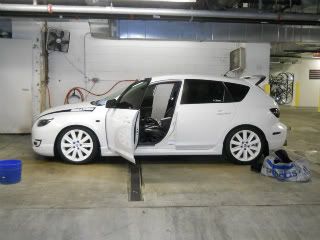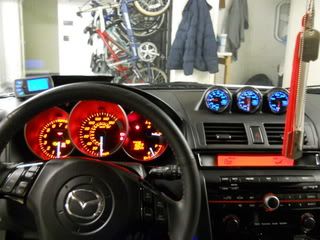 Below is the link for more pictures hosted at photbucket:
http://s141.photobucket.com/albums/r...%20FOR%20SALE/
---
[insert penis here]